Want to learn English in Boston? Receive free expert advice ✓Price of English courses in Boston ✓Prerequisites ✓Dates ✓Accommodation (optional) ✓Can I work? You will be able to see here some of the available options and you will surely find the answers to many of your questions. But contact us so that we can send you more details, including program prices.
Accredited English Courses in Boston for Adults
The language school for learning English in Boston offers the following course options:
Intensive English Courses in Boston for Adults
Standard course with 20 English lessons (16 hours and 40 minutes) per week
This course of four daily lessons will allow you to quickly improve your communication skills in different situations of everyday life. The first classes focus on pronunciation, vocabulary and grammar; and the next two cover writing, reading, listening comprehension, and dialogue.
Intensive course with 30 English lessons (25 hours) per week
This course will allow you to acquire a more in-depth language knowledge. In the morning you will participate in the same classes as the standard course. And in the afternoon you will reinforce and deepen what you have learned through conversations analyzing North American culture and its customs. Or if you prefer, in the afternoon you can also focus on developing your business English skills.
Start of courses for elementary to advanced levels: every Monday
Start of courses for beginners without any knowledge of English: on request
One lesson = 50 minutes
Maximum 16 students per class
Minimum age: 16 years
General English + Business English Courses
This course consists of 20 Lessons of General English and 10 Lessons of Commercial English (25 hours) per week. It therefore includes the lessons of the standard morning course. And they combine them with modules created to hone communication skills in a business context. The topics covered in the modules are: recruitment, advertising/marketing, negotiation and sales. A minimum of intermediate level is required to be able to participate. The duration of this English course in Boston is from 1 to 12 weeks. It is possible to start any Monday but it is recommended to start at the beginning of a new module (four dates per year: in January, March, June and September).
Exam Preparation Courses
TOEFL Preparation (30 lessons per week)
All schools and universities in the United States and Canada require foreigners to possess the TOEFL in order to enroll. This exam is also internationally recognized in all English-speaking countries. This course is offered in the afternoons as an option of the intensive course (30 lessons per week) and operates in sessions of 4, 8 or 12 weeks.
Cambridge FCE Exam Preparation (30 lessons per week)
The FCE (First Certificate in English) is the most popular of the Cambridge exams. It can bring you new professional and higher education opportunities. This course lasts 12 weeks.
Cambridge CAE Exam Preparation (30 lessons per week)
The CAE (Certificate of Advanced English) is for people who already have a good knowledge of English and need to use it in their work. This course lasts 12 weeks.
University Preparation Course
This course is specifically designed to prepare students who want to apply and successfully study at an English-speaking university or other institute. In addition to the academic English language instruction you will receive, counselors will help you choose the best graduate program to apply for. And they will explain the steps you need to follow to register. The school staff will create a study plan specifically tailored to your individual needs. And it will track your progress to make sure you reach your goals. The duration of the program will depend on your goals and aspirations, but the school recommends a minimum of 12 weeks. The program includes:
A preliminary level test and a counselling service before arriving at school.
A letter of conditional admission from a university.
An individual program tailored to your requirements and objectives.
Assistance throughout the course. This includes help to complete your applications, to visit universities, and to prepare for interviews. We can also help you with all the modalities if you wish to apply to one of the partner universities of the English school in Boston.
Advice and support for the extension of your visa.
You will learn these essential skills and techniques for studying at a university:
Research and presentation skills
How to behave and communicate effectively in academia
Examination skills and techniques
Taking and organizing notes
How to write essays with a critical mind and present arguments
Description of the language school to learn English in Boston
The English school in Boston is part of a group that has existed since 1965. Its language academies are present in various American cities, Canada, England, Australia, New Zealand, France and Switzerland. The highly qualified and experienced employees are dedicated to providing students with an unforgettable experience. All professors have university degrees and they have a lot of experience in teaching. On the first day you will do a test in order to be placed in a class adapted to your level and to optimize your progress. The language school for learning English in Boston is located between Chinatown and the financial district. It is therefore close to any type of public transport. There is a library, a computer lab and a relaxation room for students. Thanks to the various activities organized by the school you will be able to discover the American culture and lifestyle. In addition, they will allow you to develop your language skills outside the classroom. Examples of organized activities: cultural walks through the city, outings to see sporting events, excursions to Cape Cod, New York or Montreal.
Accommodation during your language stay in Boston
It is possible to book accommodation through the language school. You can stay in a homestay (carefully chosen host family), in a student residence or in a hotel. However, you are of course free to arrange your accommodation by yourself if you wish. Many students book accommodation through the school only for the first few weeks of their stay. So they have a place to stay when they arrive. And once there they look for another option on their own. For example, many decide to look for an individual apartment or a shared apartment with other people.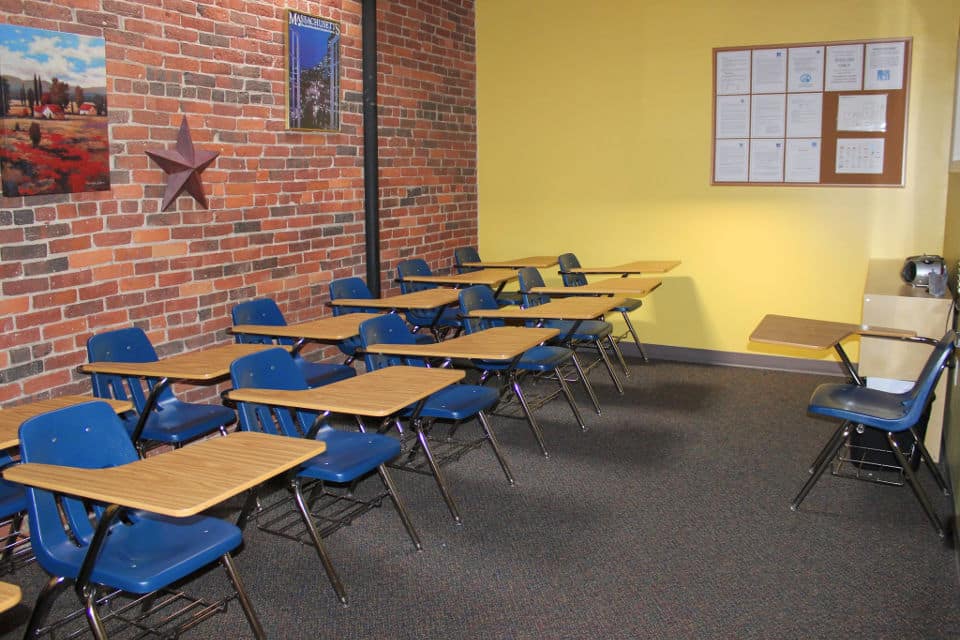 Other language study options in Boston
English courses and language courses for young people (children and teenagers) in Boston
How much does it cost to learn English in Boston?
Course prices often vary depending on the nationality of the students. Some English schools in Boston, for example, offer discounted prices for the French. These can actually benefit from discounts of up to 35% of the normal price. In addition, there are sometimes seasonal promotions, so the time of year you book the course can also vary the cost. Then contact us so that we can send you the costs that will apply to your language stay, including the prices of English courses in Boston with accommodation. And of course, your standard of living and consumption habits will also affect the cost of your English language stay in Boston. We therefore recommend that you inquire about the prices of daily living in Boston.
Sites of interest
Other pages you may be interested in
Learn English: