Are you looking for English courses or a language stay for young people in London? Receive free expert advice ✓Prices ✓Dates ✓Prerequisites ✓Accommodation (optional). You will be able to see some of the available options here, but contact us so that we can send you more complete information, including program prices.
Language course for children and teenagers in London
Language course for young people in London "English School Experience":
Dates: end of June to end of August
Age: 3 to 17 years
Course duration: 1 to 9 weeks
Class size: between 15 and 20 students per class
For all levels
27.5 hours of English per week (includes all course materials and weekly excursions)
During this English language stay in London, children and teenagers develop their skills through activities, projects and excursions in the city. The language camp offers the educational experience of a British-style school. The aim is therefore to improve English language skills in school subjects. Each week focuses on a specific theme, such as culture, history, trade, or the environment. This thematic approach to English courses for children in London allows for meaningful language learning. in addition, the lessons are not repeated, regardless of when they start the course and whatever the duration of the language stay. On the first day of classes there is an exam to assess the level of newcomers. This makes it possible to place children in classes that correspond to their level and age. In this way, they are grouped with other young people who are in the same stage of their cognitive development. The language school also seeks to know the children's interests, what motivates them and therefore what they want to learn more. This information allows teachers to plan English lessons and activities based on students' needs and preferences.
3-4 years ("nursery"):
English classes in London for young children of this age are based on creative learning through games. In addition, they promote the development of communication and social skills. And the improvement of language skills is also done through dance, singing, art, construction and music. The English school in London only accepts children who control their needs. And it reserves the right to exclude those who are unable to do so. There is no refund in this case.
5-7 years ("lower primary"):
Teachers encourage children to work collaboratively through project-based activities. They also show them how to look for information in books, computers/tablets, in order to improve their English skills. And the school organizes weekly excursions in central London.
8-10 years ("upper primary"):
Children participate in interesting activities based on discovery, and with a special focus on communicative skills such as expression, listening, reading and writing. English lessons and activities are done in relation to weekly projects. Excursions take place in the center of the city.
11-17 years ("secondary"):
Foreign teenagers gain confidence and knowledge through projects and courses based on specific topics. These include team work, worksheets, questionnaires, and surveys.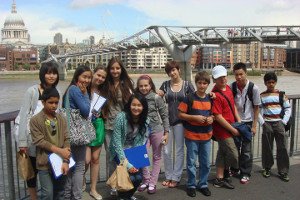 The English School for Children in London welcomes students from all over the world. And it promotes the diversity and mixing of cultures that everyone brings. Young people of more than 45 different nationalities participated in the programmes of this language academy in London. This is divided into 3 separate buildings, in which children can only speak in English. Young people from the age of 8 undergo an assessment every week to measure their progress. This evaluation can be in the form of a game or a test. This allows them to see how much they learn during the language stay for young people in London. And it also allows the teacher to determine if the child needs to move to a higher level class or if they need special support. The smaller ones are controlled and evaluated in a less formal way, by observation. At the end of the English course for children and teenagers in London, they receive a certificate and a written report.
Language course in London for teenagers "Conversational English":
Dates: end of June to end of August
Age: 14 to 17 years
Course duration: 1 to 4 weeks
Class size: between 15 and 20 students per class
For all levels
27.5 hours of English per week (includes all course materials and weekly excursions)
This unique London Teen English program promotes the practice of English skills through everyday conversation. And it also helps them improve their understanding and fluency. Each week the courses focus on a different theme, such as: technology and innovation, art and culture, etc. Morning classroom learning prepares young people for afternoon outings. And these make it possible to deepen the themes treated in class. In addition to discovering the famous sites of London and others less known, teenagers will have plenty of opportunities to practice the English language. Indeed, they will be able to develop their metacognitive skills (learning strategies), such as controlling their progress or scheduling tasks. And they will also learn to improve their social skills and qualities such as problem solving, teamwork, decision-making, or emotional intelligence.
Thematic learning of English courses for teenagers in London:
Each week focuses on a specific topic such as culture, history, trade, or the environment. Teens participate in a variety of activities that are not only entertaining but also stimulating as they facilitate interactions with English speakers. And each English lesson ends with an analysis of the day's language learning opportunities.
Confidence to express oneself:
Young people's independence will grow as they gain confidence in English and get to know London. They develop critical thinking at the same time as they learn to solve problems, and to seek and analyze information.
Language immersion programme for teenagers in London "Tickets for UK Universities":
Dates: mid-July to mid-August
Age: 16 to 18*
Course duration: 2 weeks
Class size: between 15 and 20 students per class
Level required: minimum B2 (intermediate plus)
The 2 weeks include 25.5 hours of English (IELTS preparation) + 17 hours of academic orientation (includes university visits) + 7.5 hours of university application workshops
*15-year-old students who are about to graduate from college can apply to enroll. And 18-year-old students who are still in high school can also enroll. This intensive 2-week course prepares young people for the IELTS* (International English Language Testing Service) exam. And it also helps them in their academic orientation, university research (orientation interview, visits to institutes), and application for admission (writing the CV and cover letter, mock university entrance interview). *The exam itself is not included with the course, so you must register separately.
Orientation during the language stay for young people in London:
The course begins with an interview that aims to analyze the interests of the teenager. This helps determine which classes match their passions, aptitudes, academic interests, and grades. Participants will visit some of London's top universities. And experts will explain to them what they need to focus on in order to be accepted. They also visit university campuses and libraries to get a concrete idea of what it means to be a university student in London.
Application for admission:
Candidates receive support throughout the process of writing the cover letter CV. And we also help them identify the right people to provide good references. Teens will also develop the skills needed to pass an interview and showcase their experience and knowledge.
Preparation for the IELTS exam:
With the support of the school's experts, teenagers will prepare for this important IELTS academic exam. This test is recognized as an attestation of English proficiency by more than 9,000 educational and training institutions worldwide.
Organisation of English courses for children and teenagers in London
This summer academy opened its doors in 1979. And since then, more than 50,000 children have benefited from his expertise in teaching English. This language stay for young people in London grows every year, and in addition to receiving new participants, many return every summer. The English School is an excellent year-round academy for the International Baccalaureate (IB), with a 100% pass percentage. During the summer, the academic staff includes IB professors and highly qualified staff who return each year. Its location in the heart of London allows it to offer children a complete immersion experience in the English language. Distances from school:
15 minutes from St Pancras International
30 minutes from Heathrow Airport
45 minutes from Gatwick Airport
Method of teaching English courses for foreign children in London:
Teaching focuses on group work, taking responsibility, problem-solving skills, and critical thinking. Learning is done in an entertaining way because we think it helps develop young people's curiosity. In addition, it encourages them to think independently. All language camps in London encourage the development of children's confidence with the English language. This is done through a student-centered method, through collaborative games, and themes and activities adapted to each age. Teachers have Qualified Instructor Status (QTS) and have experience in their respective fields. English teachers have at least a CELTA qualification and experience in teaching children. The English School in London is committed to providing authentic opportunities to practice English, such as:
Socialize with friends in free time
Conduct school-specific surveys
Solve problems as a team
Use English outside of the classroom
The teachers:
The school is open all year round and many permanent employees join the summer language camp in London. They bring their valuable experience and expertise. And the school also employs specialized summer instructors. Each of the camps has a director of studies responsible for all activities. And there are teams of qualified and experienced employees. Each team includes specialists in each subject taught, including English of course. In addition, they have experience in teaching specific age groups.
Safety during the language stay for young people in London:
The language academy in London is totally compromised to guarantee and promote the well-being of all its students. Safety is therefore always a priority. When children start their language stay in London, they are given a comprehensive introduction that covers all aspects of school life, including health, safety and well-being. And in each camp there is a person responsible for the well-being of the children. As part of this compromise, every week there is a session that deals with topics such as health, emotional stewardship, celebrating differences, online safety, global compromise, and bullying.
Lunch:
The English school provides a freshly prepared lunch daily, included in the price of the language camp in London. Every day children have the choice between dishes with meat or vegetarian dishes.
All meals are served with vegetables and salad. And desserts always contain fruit.
We recommend children of "lower primary" and "upper primary" to bring a healthy snack for the morning break.
It is possible to prepare meals according to special diets, provided that this is mentioned in advance.
Transportation to school in the morning and leave in the evening:
Students can go to school with their families, by themselves, or with the school bus. In order not to exceed 45 minutes of transport, the school bus service is only available for those staying in zones 1 and 2 of London. However, the itinerary includes some areas of zone 3 (details on request). Teenagers participating in the residential language camp do not need transportation.
Accommodation of the English language camp in London:
The residence of the University of London (UL) is an 8-minute walk from the school. And it can accommodate 60 teenagers who enroll in English school. Only teenagers from 11 to 17 years old can stay there, without exception. The residence consists of 28 single rooms and 32 double rooms. There is a large games room and it is close to the Seymour Leisure Centre. And there are also other facilities nearby for carrying out activities in the afternoon and evening. On Saturdays and Sundays children participate in full-day excursions. Parents can also participate in its excursions if they wish. Depending on the arrival and departure times of the young people, they may not be able to participate in the Sunday excursion where they will arrive or depart from London. The building is supervised by a team of experienced employees, with a ratio of 1 employee to 10 students. Only the staff and children of the language camp stay in the residence. The English school always makes every effort to place children who have the same mother tongue in separate rooms. The goal is for them to speak English at all times. Towels and bed linen are provided and changed weekly. And washing machines are available for teenagers. Young people cannot leave the building if they are not accompanied.
Meal:
Every morning the young people have breakfast in the cafeteria of the university, across the street. From Monday to Friday, they have lunch at the English school, and they dine in different places (school, cafeteria or restaurants).
Sites of interest
Other pages you may be interested in
Other English language travel destinations for children and teenagers: