Are you looking for English courses or a language stay for young people in Los Angeles? Receive free expert advice ✓Prices ✓Prerequisites ✓Dates ✓Accommodation (optional). You will be able to see some of the available options here, but contact us so that we can send you more complete information, including program prices.
Language course for children and teenagers in Los Angeles
This English language camp in Los Angeles accepts children and teenagers from 10 to 17 years old*. And it takes place during the summer**, from mid-June to the beginning of August. *We also work with another English summer camp in Los Angeles that accepts children from 7 years old, on the UCLA campus. **If you are looking for a winter camp, we have agreements with English schools that offer them in Miami and San Diego,and also in Canada.
The center that offers language studies for young people in Los Angeles is located on the Northridge campus of California State University (CSU) in the San Fernando Valley. It has very complete facilities that include sports fields, a swimming pool, and a multi-sports hall. And it is only 25 minutes from Hollywood and its famous reference points.
Safety during the language stay for children and teenagers in Los Angeles
The priority of the English language camp in Los Angeles is the safety and well-being of young people. And that means providing them with high-quality attention and supervision. The training of the employees of the language summer camp is the responsibility of the director of quality and training. This ensures that everyone works to very high standards. The language camp has an average of one dedicated employee for every 10 young people. Children and teenagers are constantly supervised during their youth language stay in Los Angeles. Indeed, there is supervision after English lessons and activities, and during excursions. And there are also nocturnal managers, which guarantees a presence 24 hours a day. In case of any medical problem, the center has trained first aiders, and if necessary the employees have the contacts of doctors, dentists and hospitals. In order to ensure that children have a good and safe experience, there are tutors who make sure they are happy and well taken care of. Upon arrival, young people receive an introduction and orientation. And they are given an identity card that contains the emergency numbers of the camp (there is an emergency telephone service available 24 hours a day). The academy that organizes these English language courses for young people in Los Angeles is present at the international level. It also organizes the same kind of programs in Canada, England, and Ireland.
Organization of English courses for children and teenagers in Los Angeles
English lessons for teens focus on the student themselves and help in the development of relevant language skills. The lessons are captivating and take place in a positive learning atmosphere. English courses for children in Los Angeles are accredited by ACCET. This guarantees the quality of the school and its programs. The classrooms are located in the same building where the young people sleep. There are 15 hours of English lessons per week (20 x 45 minutes), which take place in the morning or afternoon. Qualified teachers teach them in classes of 15 students. On the first day, an exam allows each young person to be placed in a class that corresponds to their level. There are lessons for all levels, from total beginner to advanced. All teaching materials are included and are adapted to the age and level of the children. At the end of the course the children receive a report showing their progress and a certificate of the level they have reached. In addition, they will receive a note book that will allow them to register all their lessons and will serve them for continuous learning after the summer. Thanks to a motivating atmosphere, children and adolescents perfect the six important skills of everyday life: communication, teamwork, problem solving, confidence, creativity, and curiosity. The program focuses on the development of these skills during activities and excursions. This can be done, for example, by making them take the lead in a team project to increase their confidence. Or it can also be done through the creation of a work, or by documenting a local project.
Accommodation during the language stay for young people in Los Angeles
Children and teenagers sleep in double rooms, spread over 4 buildings. Each room shares a bathroom with another bedroom. There is therefore on average one for every 4 young people. Some bathrooms are directly connected to the bedrooms and others are in the hallways. The rooms are air conditioned and have wardrobe, desk and chair. There is WiFi throughout the campus. Towels and bed linen are included and changed weekly. Each residence has a laundry room that can be used for a low cost. Young people have to tidy up their room themselves. There is a weekly cleaning of the bathrooms and daily of the common areas. All meals are taken in a large refectory in self-service mode. With days filled with lessons and activities, the Teen English Language Camp in Los Angeles places a lot of importance on a balanced diet. Meals, hot and cold, adapt to most diets (vegetarian, gluten-free, etc.). For full-day excursions, young people receive a take-away lunch.
Activities and excursions in addition to English courses for children and teenagers in Los Angeles
The los Angeles youth language course includes two full-day excursions per week as well as various on-campus activities. Everything is designed to combine learning with fun and fun, while developing skills and making new friends through sport, activities and games with social interaction.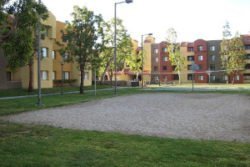 Examples of activities: football, mini-Olympics, table tennis, beach volleyball, basketball, drama workshops, treasure hunt, talent contests, pool party, barbecues, etc. Examples of excursions:
Los Angeles Center: Los Angeles Cathedral, Olvera Street, LA Union Station, Chinatown and the Getty Center.
Hollywood: Hollywood Boulevard with the Walk of Fame, Beverly Hills and Rodeo Drive.
Beach day: Getty Villa, Malibu, Zuma Beach, Santa Monica, Venice Beach.
California Science Center, Disney Concert Hall, Little Tokyo.
Grammy Museum, Staples Centre, Santee Alley, Griffith Observatory.
Places of interest
Other pages you may be interested in
Other English language destinations for children and teenagers: