Are you looking for English courses or a language stay for young people in Malta? Receive free expert advice ✓Prices ✓Dates ✓Prerequisites ✓Accommodation (optional). You will be able to see some of the available options here, but contact us so that we can send you more complete information, including program prices.
Language course for children and teenagers in Malta
The English school that offers this language stay for young people in Malta has existed since 1999. She is accredited by FELTOM (Federation of English Language Teaching Organisations Malta) and EFL. And it also has licenses from the Maltese Ministry of Education and the Malta Tourism Authority. In addition, it is recognized by the Bildungsurlaub.
This language camp in Malta is the perfect opportunity to practice English while being immersed in the language. And it's also the perfect opportunity to make new friends from all over the world. In addition, young people participate in many activities, including sports and excursions, and above all they have fun.
For individual registrations, the language course for young people in Malta is available from the end of June until the end of August. And the minimum duration is one week. As for groups, it is possible to organize stays throughout the year.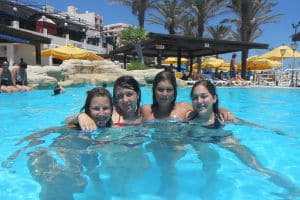 Organization of the language stay for young people in the morning:
8am: Wake up, morning exercises and breakfast (for young people who participate in the residential program).
8:30am: The school's private minibus departs from St. Paul's Bay to pick up those who participate in the day camp.
9am: Arrival of young people who do not participate in the residential program. Meeting with the coordinators to present the plan of the day.
9:15am-12:45pm: English courses for children and teenagers in Malta, Monday to Friday (3 hours a day). The groups are made according to the level of English of the young people. There is a maximum of 15 students per class to ensure individual attention.
12:45pm: The mini-bus takes back to St. Paul's Bay children who participate only in the academic program (English only courses). The others receive a hot lunch.
Organization of the English language camp in Malta in the afternoon:
2pm: During the afternoons the English camp in Malta offers a wide variety of healthy activities. These include team sports and recreational activities, outdoor or indoor. For example: football, basketball, volleyball, badminton, swimming and snorkeling in the Mediterranean, hiking, film shooting, bowling, painting, geocaching, photography, dance, yoga, hip hop, etc. And to complete the program the English school for children in Malta organizes excursions. These include historical and cultural tours to Mdina and Valetta. And there are also treasure hunts, shopping, and sessions of traditional local handicrafts such as ceramics or limestone cutting.
6pm: Participants of the language day camp in Malta return with their loved ones by mini-bus. And the young people in the homestay program return to their host families to shower and dine. Residential campers shower and dine as well. And they also have free time to relax or contact their friends or families in their home countries. The school asks parents to contact their children only during this time, except in case of emergency.
8pm: The young people of the program with homestay return to the language camp to participate in the night activities. These facilitate social and linguistic interaction. These activities are for example: welcome party, dance party, game night, ping-pong tournament, dances, talent contests, etc.
10pm: The young people of the program with homestay return to their host family to sleep.
10:30pm: Time to sleep and dream in English.
Weekends during the language stay for young people in Malta:
The language camp dedicates Saturdays to excursions whose purpose is to discover Malta. Sundays are also days filled with entertainment (for young people in the residential and homestay program). For example, there are sports competitions or photos. And also take place the preparations for the "evening of cultures", during which everyone shows the best of his own country (typical dishes, traditions and customs).
Organisation of English courses for children and teenagers in Malta
The English School for Children and Adolescents in Malta offers four language programme options:
1) Language study for young people in Malta with accommodation in residence of (10-17 years):
This is the standard and most complete language camp. Indeed, it offers English lessons for children and teenagers in Malta, accommodation, daily activities (including weekends). And it also includes excursions to discover the island of Malta. The centre has double/triple rooms and single rooms. These are comfortable, modern and furnished and have fans. It is also possible to sleep in a dormitory (26 to 32 beds per dormitory). Girls and boys are accommodated separately. And transportation from the airport (round trip) is included in the price of the program.
2) English language camp in Malta with accommodation with a host family (10-17 years old):
This language stay for young people in Malta is very similar to the first. The only difference is that the children stay with local host families, close to the English school. In addition, they have breakfast and dinner with these families (meals take place at school). Young people are encouraged to try different types of food to promote a healthy and balanced diet. It is possible to accommodate vegetarians and other types of diets, provided you are informed at the time of registration.
3) English camp in Malta by day without accommodation (10-17 years old):
The schedule for this option is from 9am to 6pm from Monday to Friday (Saturdays and Sundays are optional). Young foreigners therefore participate in the English courses for children and teenagers in Malta and in the afternoon activity programme. Meals are included. This program offers the possibility to stay with parents and take the private mini-bus from the school. It takes 15 minutes to get to the language camp from the center of St. Paul's Bay.
4) Only English courses for children and teenagers in Malta, without accommodation or activities (4-17 years):
This program only includes English lessons, which take place Monday to Friday from 9am to 12:45pm.
Staff and supervision of the language stay for young people in Malta:
In order to ensure the safety and well-being of children, all activities are supervised by leaders and coordinators. And there is an average of one staff member for every 15 young people. In addition, the English school in Malta selects its staff following a strict process. And employees receive intensive one-week training before the start of the summer language camp. On the other hand, at all times there is a certified first aid person on site. And compliance with safety rules is required during any activity.
The language coordinator is the one who is in charge of the study plan. He supervises English courses for children and teenagers in Malta and monitors their progress. The program adapts to all levels and focuses on understanding and conversation. Indeed, the courses include debates on specific themes, role plays, team projects and local visits. This entertaining method of teaching helps to maintain the interest of children and teens and give significant results.
The practice continues after the English classes. Indeed, it is the only official language of the language summer camp in Malta. And so everyone has to speak English all day, except in case of emergency of course. Thus children and teens can improve significantly over a period of 2 weeks. And at the end of their stay they will receive a report with all the details of their progress.
Language Camp Facilities:
The English summer camp in Malta takes place in a college in the affluent area of Tal-Virtu' in Rabat. It is 10 minutes from the medieval old town of Mdina. The facilities include 2 football fields, an auditorium with a stage equipped for shows. And the college also has a gymnasium fully equipped for team sports (volleyball, basketball, badminton and table tennis), a relaxation room with billiards and table football, and two large green areas.
Sites of interest