Are you looking for English courses or a language stay for young people in Miami? Receive free expert advice ✓Prices ✓Dates (summer/winter) ✓Prerequisites ✓Accommodation (optional). You will be able to see some of the available options here, but contact us so that we can send you more complete information, including program prices.
Language course for children and teenagers in Miami
The academy that organizes this English language holiday camp in Miami has an international reputation since it is also present in Canada, the United Kingdom, and Australia. This is a program designed for foreign children and teenagers who want to improve their level of English while having a memorable experience. The Miami school offers English camps in summer (June to August) and winter (December-January). These language camps in Miami accept children from 7 years old (and up to 15 years old). This is a language day camp, so without accommodation*. And there are two options available:
Full-day English camp in Miami (including language courses and activities). The schedule is from 8:45am to 5pm Monday to Friday.
Academic program (English courses only). The schedule is from 8:45am to 1:30pm Monday to Friday.
*The participants in this language stay for young people in Miami are therefore children and teenagers who travel with their parents or who stay with friends. If you are looking for a youth language camp that includes accommodation, we work with other programs in Boston, Los Angeles and San Francisco that accept children from 7 years old.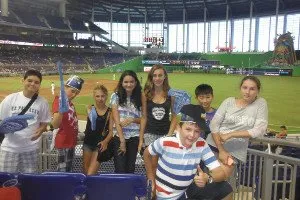 The minimum duration of this English language camp for children in Miami is one week and the maximum duration 8 weeks. Young people spend part of the day studying with other students of the same age. English courses are multicultural and taught by certified teachers. And they spend the other part of the day doing sports activities, games, cultural outings and excursions. These activities are designed to optimize learning based on age group. It is a perfect opportunity to make friends from all over the world in a safe and supervised atmosphere.
What does the language stay for young people in Miami include?
English courses for children and teenagers (20 lessons per week)
Certificate of attendance and academic report
Tickets and transportation to organized activities and events
Continuous supervision
Internet access in the school
Daily lunches
Opening hours of the English Language Summer Camp in Miami:
9am to 9:50am: English lesson
10am to 10:50am: English lesson
11am to 11:50am: English lesson
Lunch
12:30pm to 1:20pm: English lesson
Afternoon activities
Organization of English courses for children and teenagers in Miami
English lessons for children and teens in Miami:
There are 4 lessons per day, so 20 lessons per week from Monday to Friday. They consist of 15 standard English lessons and 5 elective classes, with a maximum of 15 students per classroom. However, the average per class is 10-12 students, divided according to their level of English. And the program accepts all levels, from total beginner to advanced. Each young person must take an exam on the first day, both written and oral. This will allow him to be placed in a group that corresponds to his level. And the academy also takes into consideration the nationality and age of the children when making the groups. Of the 4 daily English lessons, the first 3 focus on grammar, conversation, writing and reading. And the fourth focuses on a more practical aspect of the English language. The elective lessons available are as follows:
Journalism: The idea is to create a weekly newsletter to be distributed to other participants and parents.
Dramatic arts: the goal is to create a work and present it to other children.
Health and sports: the goal is to learn the basic principles of health and how to maintain your healthy body, through the practice of a sport for example.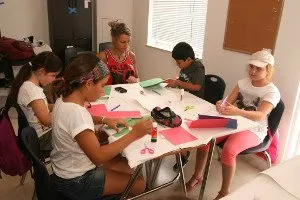 Location of the English school for children and teenagers in Miami:
The English school is located in a very good area of South Beach, 450 meters from the beach. Plus, its location allows easy access to many of Miami's amazing places. The Language Academy offers lessons for adults in the same building where the English courses for children and teenagers take place. Parents can therefore register and study at the same time as their child.
Activities during the language stay for young people in Miami:
The school has created a program of activities specifically to meet the needs and desires of each age group. The program is divided into excursions outside the academy and on-campus activities organized by the coordinators. The outings allow you to see and visit attractions such as Miami's famous beaches, museums, and much more.
Safety and well-being:
The English school considers safety as one of the most important aspects of the language stay for children and teenagers in Miami. It therefore dedicates a lot of effort to ensure that young people make the most of it while being safe. The security rules are as follows:
School employees take care of all children. And they make sure that none of them leave at the end of the day without a parent or legal guardian being signed. An employee will always stay until someone comes to pick up the child.
Participants are supervised at all times during the English language camp in Miami. There is always a minimum of one employee for every 10 young people.
Children and adolescents receive a personal identification card, with the name and address of the language academy. This card also contains the emergency numbers, so there will always be someone available if needed.
During the day there is always a person available in the school building between 8am and 5pm, Monday to Friday.
No participant in the youth language camp in Miami can go out without being accompanied by someone from the school.
Places of interest
Other pages you may be interested in
Other English language travel destinations for children and teenagers: