Want to learn English in Dublin? Receive free expert advice ✓Prices of English courses in Dublin ✓Work ✓Prerequisites ✓Accommodation (optional) ✓Dates. You will be able to see here some of the available options and you will surely find the answers to many of your questions. But contact us so that we can send you more details, including program prices.
Accredited English Courses in Dublin for Adults
The language school offers the following options for Adult English courses in Dublin:
General English Courses in Dublin
The language school's courses for learning English in Dublin have a maximum of 15 students per class. And it is possible to choose the morning schedule or the afternoon schedule. In the morning lessons take place from 9am to 10:30 am and from 10:45am to 12:15pm. And in the afternoon they take place from 1pm to 2:30pm and from 2:45pm to 4:15pm. So there are 15 hours of classes per week. If you are looking for a more intensive course, we work with other English schools in Dublin that offer it. The academy accepts continuous registrations throughout the year (every Monday). The aim of this English course in Dublin is to develop the four skills of the language: reading, writing, comprehension and oral expression. For this, you will use an authentic and functional language. You will also improve your communication skills, both inside and outside the classroom. In addition, you will consolidate your knowledge and understanding of English grammar and can put it into practice with confidence. And finally, you will enrich your vocabulary and lay a solid foundation for further study of the language.
English levels:
The English school in Dublin offers lessons for all levels, from beginners to advanced. These are based on the CEFR (Common European Framework). So there are lessons that adapt to the individual goals of each student. You will take an assessment test on the first day before starting the course. This will allow you to place yourself in a class adapted to your level. And you will stay in this class until you are able to move to a higher level. There is no time limit to stay in the same level. But it takes about 12 weeks to move to the next level. When you finish the course you will be given a certificate mentioning the level reached and the number of hours studied.
IELTS Exam Preparation Course
The IELTS (International English Language Testing System) is accepted as proof of English proficiency by more than 9,000 organisations worldwide. This course provides general training to prepare for the exam. And it focuses on the skills needed in social contexts and in the workplace. The aim of this English course in Dublin is to help you get the best possible score for your level. The exam tests the following four skills: reading, writing, listening, speaking.
Academic year / English + work studies (for non-Europeans)
In Ireland, student status allows non-Europeans to work while studying. However, they must register for a course of at least 15 hours per week and lasting 25 weeks. This is why English schools in Ireland offer courses that adapt to this condition. As far as European citizens and Swiss citizens are concerned, there are no special conditions for being able to work. The language school in Dublin provides students with a career counsellor. He will be able to help you write your CV. And he will explain how the job market works in Ireland and what you can do to find a job.
Other diplomas
TIE:
The Test of Interactive English (TIE) is an international exam for English as a Foreign Language. It was developed in Ireland by a group of English language professionals under the aegis of ACELS. The Advisory Council for English Language Schools is a government agency that at that time was responsible for ensuring the quality of English language teaching. The TIE can be taken by minor or adult students taking an English course in Ireland or elsewhere. It assesses the written and oral level, and separate scores are assigned to each part of the test. It is certified by IELT and recognised as an English graduation exam on the ILEP list (see details below).
FCE/CAE:
The FCE (First Certificate in English) is the most important of the Cambridge exams. It is also the most popular at school. It is accepted by thousands of companies and educational institutions around the world. There are two possible versions: paper or computer. You can take the paper version in March, May, June, August, or December. And you can switch the version on computer in February, April, July, August, or November.
FART:
The PET is another Cambridge exam. It targets people with level B1 of the CEFR (Common European Framework of Reference) referencing. It is therefore aimed at those who already have a mastery of the basics of English and can use their skills in everyday life.
Description of the language school to learn English in Dublin
The English school in Dublin is located right in the centre, in front of the O'Connell Bridge. This greatly facilitates the daily life of its students. Indeed, there is a tram stop right in front of the linguistic academy, as well as many bus stops. A 5-minute walk away is the famous Temple Bar, and most of the attractions (Government Buildings, Museums, Colleges and Bookstores). The welcoming classrooms are equipped with TVs, high-quality speakers, comfortable chairs and wifi. In addition to the paid English courses offered by the language school in Dublin, there are also free, and optional, lessons for registered students. In the canteen you can buy food and sit comfortably to enjoy your meal. There is a microwave available for students, as well as an electric kettle. Facilities also include a computer room and a bookshop where you can freely consult a collection of books and books.
Support for students during their English course in Dublin
To study at the English School in Dublin, you must demonstrate a willingness to learn the language and improve yourself. So you need to be open and ready for the challenges that lie ahead. And the academy team is prepared to guide you to optimize your language stay in Ireland. In addition, you will be able to receive professional guidance to help you with your CV, LinkedIn. And you'll also receive tips on how best to find jobs and get the most out of your experience.
Medical insurance
It is mandatory for non-Europeans who wish to learn English in Dublin on a student visa to have private medical insurance. For those who don't already have one, the language school can arrange one with Academy Plus. This policy covers emergency medical expenses, emergency travel and repatriation expenses, and it complies with visa regulations.
Accommodation during your language stay in Dublin
The purpose of the language school to learn English in Dublin is to make you feel at home. As a result, hosting plays an essential role in the course and quality of your language immersion experience. All locations where students are staying are close to public transport, shopping malls, markets and banks. You can be sure that you will be accommodated in quality accommodation while you take your English course in Dublin.
Homestay
There is nothing like repetition to learn certain words and phrases correctly. By living with a family and eating with them you will quickly learn the useful words of everyday life. This includes, for example, expressions used around the table, discussions to tell your days or other domestic topics. By talking with your host family you will be constantly learning in a natural way.
Student residence
Among the advantages of student residences, there is the opportunity to meet people and therefore to build and develop a social network. It is of course possible to make friends in the English school. But developing a circle of friends where you host yourself is a whole other experience.
Hostels
Hostels offer quality accommodation at low prices. The language school has agreements with hostels located in the center of the city. So you can easily move on foot to access many attractions.
Learner protection
The language school for learning English in Dublin provides student protection in accordance with the regulations of the ILEP list. This gives students peace of mind about paying their fees and the length of the English course in Dublin they enroll in. It protects the full payment of fees in the event that the school loses its accreditation or becomes insolvent. In this case the protection guarantees that the student will be placed in another similar course. And if there is no other similar course available, it guarantees a refund.
What is the ILEP list?
On 19 May 2015 the government passed a series of reforms that apply to the student migration system in terms of international education. These reforms include the introduction of the Interim List of Eligible Programmes (ILEP). It was to be provisional and replaced by the International Education Mark (IEM), however the latter has still not been introduced. The ILEP therefore still prevails and identifies the programs that are eligible to welcome foreign students (outside the European Economic Area). It is important to note that this is not quality assurance. You will be able to see the list and details on this page.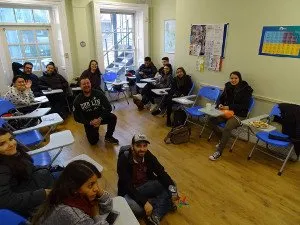 Other language study options in Dublin
How much does a language stay in Dublin cost to learn English?
Depending on the school, course prices may vary depending on the nationality of the students. And the English schools in Dublin described above offer discounts for people from a number of countries, including France. The French can thus benefit from discounts of up to 33% of the regular price. In addition, some academies offer seasonal promotions, so the time of year you book the course can also play on the cost. Then contact us so that we can send you the costs that will apply to your language stay, including the prices of English courses in Dublin with accommodation. And of course, your standard of living, and therefore your consumption habits, will also influence the cost of your English language stay in Dublin. We therefore advise that you inquire about the prices of daily living in Dublin.
Sites of interest
Other pages you may be interested in
Learn English: