English Courses in London
Want to learn English in London? Receive free expert advice ✓Prices of English courses in London ✓Prerequisites ✓Dates ✓Accommodation (optional) ✓Can I work? You will be able to see here some of the available options and you will surely find the answers to many of your questions. But contact us so that we can send you more details, including program prices.
Accredited English Courses in London for Adults
If your level is at least elementary the start dates of English courses in London are very flexible. You can start the majority of classes on any Monday of the year. On the other hand, absolute beginners must start on the first day of a new session (one date per month). All lessons last 50 minutes and there are a maximum of 15 students per class. The minimum age is 16 years. The language school offers various course options for learning English in London.
Intensive General English Courses in London for Adults
You have the possibility to choose between three study intensities:
20 lessons per week (16 hours and 40 minutes) during the mornings
24 lessons per week (20 hours) in the mornings and a few afternoons
30 lessons per week (25 hours) in the mornings and afternoons
In the morning you will focus on learning basic language skills. Oral and written comprehension, vocabulary, pronunciation, oral and written expression, and grammar are therefore the key elements of these lessons. And in the afternoon you will deepen and consolidate these skills in a context that will make you discover the culture and mores of the United Kingdom. This methodology will allow you to significantly increase your fluency in English. And you will also be able to focus on more specific aspects such as business English.
English courses in London for academic preparation
This course includes 30 lessons (25 hours) per week. It combines General English classes with more specific classes that will strengthen your academic skills such as expression and written comprehension, and that in addition will allow you to increase your vocabulary. You must have an intermediate level at least to be able to register for this course.
Exam Preparation Courses
The English School in London offers programs that will specially prepare you for the following exams:
TOEFL, TOEIC and IELTS for intermediate to advanced levels. Students typically take this course for 4, 8 or 12 weeks.
Cambridge "First Certificate in English" (FCE) for intermediate levels. And Cambridge "Certificate of Advanced English" (CAE) for intermediate-upper levels has advanced. Depending on the start dates, the courses last 4, 11 or 12 weeks.
Cambridge Certificate of Proficiency in English (CPE) for advanced levels, with a duration of 12 weeks and two start dates per year.
Preparation courses to enter university:
If you want to apply to an English-speaking university or college, this program will help you achieve your goal. In addition to english lessons you will also receive a consulting service. The language school to learn English in London will help you in choosing a suitable institution. And she will guide you through the registration process and immigration procedures.
Study programme + paid work (only for citizens of the European Community)
It is mandatory to reach an intermediate-higher level in English before you can start the "work" part of the program. The first step before registering is to take a test to assess your level. So we can decide how many weeks you will have to study English before you can start the work. First, you must take a course of at least 4 weeks (or more if more weeks will be needed to reach the required intermediate-upper level). And then the work lasts 3 months minimum, and 12 months maximum. Students are always placed in beginner positions, mainly in the hotel and restaurant sector*. And it is necessary to have experience in these sectors. Investments are almost always made in other parts of the UK (but never in the city of London itself). The location will depend on the job opportunities at the time of placement. *Would you like to be placed in a more qualified position? This corresponds to programs with unpaid professional internships. The language school also offers this kind of program, ask us for details.
Description of the language school to learn English in London
The English school in London has two locations. The first is located in the West End right in the center. It is therefore very close to attractions such as the British Museum, the shops of Oxford Street and the Soho Entertainment District. And the other is 20 minutes from the centre, in the picturesque and green district of Hampstead. It is therefore close to restaurants, cafes, shops and Hampstead Heath Park. The two language schools for learning English in London have similar facilities. They have computer centers with free internet access, libraries and relaxation rooms for students. They offer entertaining and varied socio-cultural programs, including visits to museums, galleries and pubs, and also excursions to other cities (Oxford, Cambridge, Paris).
Accommodation during your language stay in London
English schools in London offer various accommodation options for your language trip. However, you can look for accommodation on your own if you prefer. The possible options (through the school) are:
Homestay
Collocation in apartment (single room)
Residence or youth hostel (single or shared room)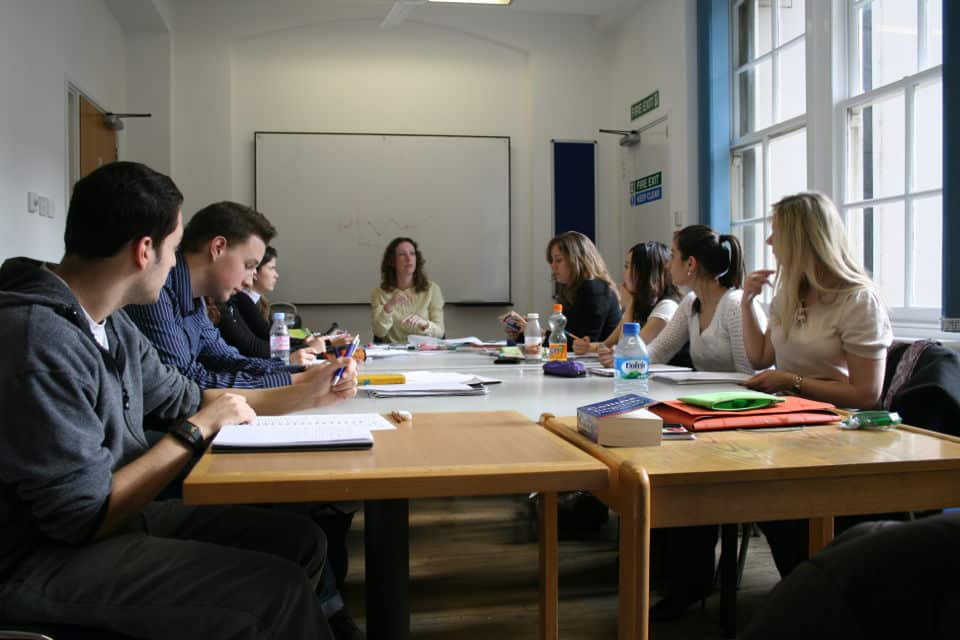 Other language study options in London
English courses and language courses for young people (children and teenagers) in London
How much does it cost to stay in London to learn English?
Depending on the school, course prices may vary depending on the nationality of the students. And the English schools in London described above offer discounts for people from a number of countries, including France. The French can thus benefit from discounts of up to 33% of the regular price. In addition, some academies offer seasonal promotions, so the time of year you book the course can also play on the cost. Then contact us so that we can send you the costs that will apply to your language stay, including the prices of English courses in London with accommodation. And of course, your standard of living, and therefore your consumption habits, will also influence the cost of your English language stay in London. We therefore advise that you inquire about the prices of daily living in London.
Sites of interest
Other pages you may be interested in
Learn English: