Want to learn English in Los Angeles? Receive free expert advice ✓Prices for English courses in Los Angeles ✓Prerequisites ✓Dates ✓Accommodation (optional) ✓Can I work? You will be able to see here some of the available options and you will surely find the answers to many of your questions. But contact us so that we can send you more details, including program prices.
Accredited English Courses in Los Angeles for Adults
The linguistic academy offers a very comprehensive program, with a communicative methodology and experienced teachers. This will help you achieve the goals for which you have chosen to take an English course in Los Angeles. People who have an elementary level or higher can start the lessons every week. But absolute beginners should start on the first day of a new school session (one date per month). The language school for learning English in Los Angeles uses a teaching method that optimizes the learning process. Indeed, everything is done so that it is a stress-free experience, promoting spontaneity, pleasure and creativity. From the first day of class, a communication is established that allows you to assimilate the new language more quickly. In addition, you will remember what you have learned for a longer time. Lessons are based on contextual settings such as interactive role-playing, conversations, and question-and-answer sessions. This helps to strengthen the vocabulary. Elements of English courses in Los Angeles:
Integrated Skills (mornings)
You will study the four essential skills of the language (reading, writing, conversation, comprehension). You will learn current grammatical patterns in the context of a conversation or everyday life situations. And you will carry out practical work of reading and writing. All this through the "Communicative Language Teaching" methodology. The course is available for all six levels of the language and it is possible to start any Monday (unless you are a beginner).
Active listening (afternoons)
You will tackle a wide variety of topics at the same time as you improve speaking and pronunciation. These lessons are based on conversations in English, using North American dialogue styles. You will also learn to communicate using idiomatic expressions and slang terms. Teachers at the English school in Los Angeles use different processes. The goal is to teach in a more practical way. For example, the course includes debates, scenarios, or exercises to develop hearing.
Part-time courses (10 lessons per week)
This course will allow you to learn English in your free time. It consists of 2 lessons each morning or afternoon, leaving the rest of the day free to explore the city or relax.
Semi-intensive course (20 lessons per week)
You will develop your conversational and understanding skills. The built-in skills of the morning are combined with the active listening of the afternoon. You will study with effective and up-to-time teaching materials, and with two different teachers, one for morning lessons and another for afternoon lessons.
Intensive English Course in Los Angeles (30 lessons per week
You will join the morning integrated skills classes and the afternoon active listening classes. And in addition you can choose an optional subject such as: commercial English, pronunciation, grammar, preparation for TOEFL/ IELTS / TOEIC, speaking with confidence and impact, writing for higher education.
Business English Courses in Los Angeles
This course is designed to teach students how to use English in present or future professional situations. There are 30 lessons per week during which you will develop the necessary skills in commercial contexts and work environments. And you will learn the vocabulary regularly used in the corporate world. At the end of this course you:
Will have developed confidence and skills to deal with English-speaking people in business situations.
Have enriched your lexicon and your knowledge of international business concepts.
Will be able to write and read basic reports, faxes and memos.
Have expanded your vocabulary relating to business situations.
Will be able to identify the differences and similarities between doing business in North America and other countries.
Features of all English courses in Los Angeles:
One lesson = 45 minutes
Six levels of study, from beginner to advanced. A level test allows each student to be placed in an appropriate class. And at the end of each four-week session, students conduct a written assessment and meet individually with their teacher to monitor progress. At the end of each semester you will receive a report card and at the end of the course you will be given a certificate of studies.
Creative activities to facilitate learning.
14 students maximum per class
Experienced and qualified teachers
Start dates every Monday
Description of the language school to learn English in Los Angeles
The English school in Los Angeles is accredited by ACCET (the Accrediting Council for Continuing Education and Training). It is located in Torrance near the coast. It offers courses adapted to students of all ages and nationalities. Diversity is very important and there is not one nationality that represents more than 20% of the total number of students. The Language Academy is located in the shopping center of "Village del Almo", 30 minutes from the city center. And it's even closer to Santa Monica, Hermosa Beach and other California attractions. The language school in Los Angeles, which has been in existence since 1996, can accommodate up to 150 students and includes:
11 spacious classrooms
A lounge with sofas and TV where students can play games, watch movies, eat and relax during breaks
A fully equipped kitchen
A computer room
Wireless internet access
An outdoor terrace
The minimum age is 16 years, with an average of 20-22 years.
Accommodation during your language stay in Los Angeles
The school can take care of finding you accommodation if you wish. The options available are in a homestay or in a residence. The homestay option allows you to experience North American culture and practice English while living with a host family. You will have a single room with a single bed, a desk and a wardrobe. All host families have been visited by school staff and they live in safe and pleasant neighbourhoods. You can book a family who will provide you with 2 or 3 meals a day. And sometimes it is possible to ask for one without a meal for those who want more independence and prefer to cook themselves.
Extracurricular activities
We advise you to participate in the various organized activities. It is indeed a fantastic way to practice what you have learned in class in a more concrete context and to exchange with your classmates in a relaxed atmosphere. Activities include: beach volleyball, beach football, bowling, dinners, nature walking and biking tours, cinema, visits to local attractions such as Lobster Fest, Fiesta Hermosa, Six Flags amusement park, local markets, museums, and more.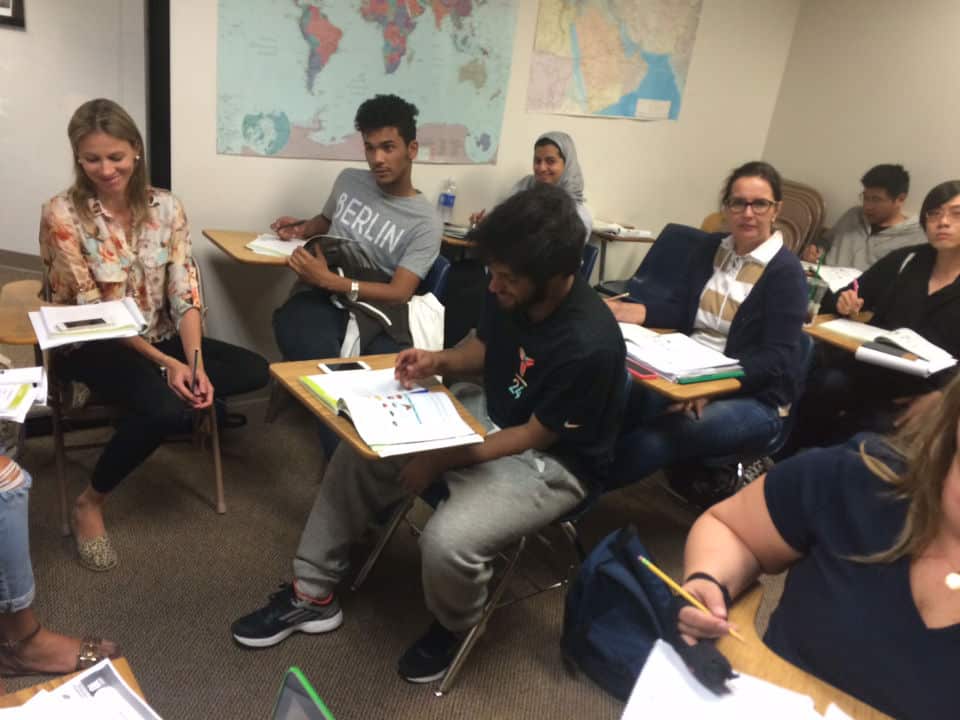 Other language study options in Los Angeles
English courses and language courses for young people (children and teenagers) in Los Angeles
How much does it cost to learn English in Los Angeles?
Program prices can sometimes vary depending on the nationality of the students. This English school in Los Angeles offers, for example, reduced prices for many nationalities, including the French. These can actually benefit from discounts of up to 28% of the regular price. In addition, seasonal discounts are sometimes available, so the cost may vary depending on the time of year you make the reservation. Then contact us so that we can send you the costs that will apply to your language stay, including the prices of English courses in Los Angeles with accommodation. And of course, your standard of living and consumption habits will also affect the cost of your English language stay in Los Angeles. We therefore recommend that you inquire about the prices of daily living in Los Angeles.
Sites of interest
Other pages you may be interested in
Learn English: