Want to learn English in SF? Receive free expert advice ✓Prices of English courses in San Francisco ✓Prerequisites ✓Dates ✓Accommodation (optional) ✓Can I work? You will be able to see here some of the available options and you will surely find the answers to many of your questions. But contact us so that we can send you more details, including program prices.
Accredited English Courses in San Francisco for Adults
The language school for learning English in San Francisco offers a wide range of courses organized into modules. These can be combined according to your interests, goals, level and availability of time. At the end of each session (4 weeks), the teachers assess your level of English. So you can constantly choose new modules and move to higher levels. It is possible to start every Monday, except when it is the last week of a session (reserved for exams and tests). Each module lasts 1 hour and 40 minutes.
English courses in San Francisco based on communication
Improve your communication skills through dynamic group activities. These focus on speaking and listening. This will allow you to interact with your classmates in a variety of social situations, both real and fictional. These modules will allow you to acquire more vocabulary, perfect your listening comprehension, and increase your accuracy. You will also learn common idiotisms and expressions, which you will practice in various contexts. Lessons also include elements of reading and writing. For beginner to advanced levels, the options available are: communication in English, assertion, conversation, auditory comprehension, pronunciation, public speaking and vocabulary. And for intermediate to advanced levels, the options are: debate and auditory comprehension for professionals.
Graduate Preparation Courses
The focal point of these English courses in San Francisco is the development of reading and writing skills. And you will also improve the use of grammar to promote success in university studies. The school recommends this program if you wish to undertake graduate studies in North America or abroad. You can choose between the following modules:
Beginner to advanced level: academic preparation, grammar, reading, writing.
Intermediate to advanced level: expression and auditory comprehension in an academic context, university vocabulary.
For advanced level: university preparation.
Business English Courses in San Francisco
The language school in San Francisco offers various business English courses. These will help you achieve your future professional goals. You will perfect your language skills through interesting corporate contexts such as international business or human resources. It is not an obligation to have experience in the business world. The different modules are:
Beginner to advanced level: Business English, English in the workplace.
Intermediate to advanced level: business administration and human resources, international business practices, advertising and media, business culture, habilidades para entrevistas de negocios, marketing.
English courses focused on the humanities
These lessons will help you dominate the language of self-expression and human behavior. The dynamic atmosphere of these classes will invite you to explore and debate global social topics. The language academy offers modules such as Creative English, English through Yoga or across San Francisco. And it also offers options such as social themes, characters and places through time, online writing.
Exam Preparation Courses
It is possible to choose between various programs to prepare for the language proficiency exam you need to take. The English school in San Francisco offers lessons to prepare for the Cambridge FCE, IELTS, and TOEFL exams.
Description of the language school to learn English in San Francisco
The English school in San Francisco is located in the Embarcadero Center. It is a modern building in the center of the commercial area of the city. This safe area is in the middle of shops, shops and tourist attractions. And it is very easy to access by public transport. The clean, comfortable and high-tech facilities create a pleasant and modern study atmosphere. There are 15 classrooms, a computer room, a bookstore, a lounge with free internet access. The teachers are qualified and experienced. They all have a university degree, a teaching degree and relevant experience. The atmosphere of the school and English courses in San Francisco is very multicultural. The balanced student population means that there is not a majority of students with the same mother tongue. In addition, there is a strict "English only" policy inside the building.
Extra-curricular activities:
Going out and exploring is an essential concept within the language school. This gives students the opportunity to relax after class and spend time with their new friends. They practice what they learn in class in the real world. Whatever your interests you will find activities to your liking: sports, theater, music festivals, cultural visits, etc. A staff member will accompany you and the only cost will be transportation and the corresponding entrance fee (when there is one). There are activities organized in the afternoons after classes and excursions on weekends that allow you to discover the surroundings and also other American cities.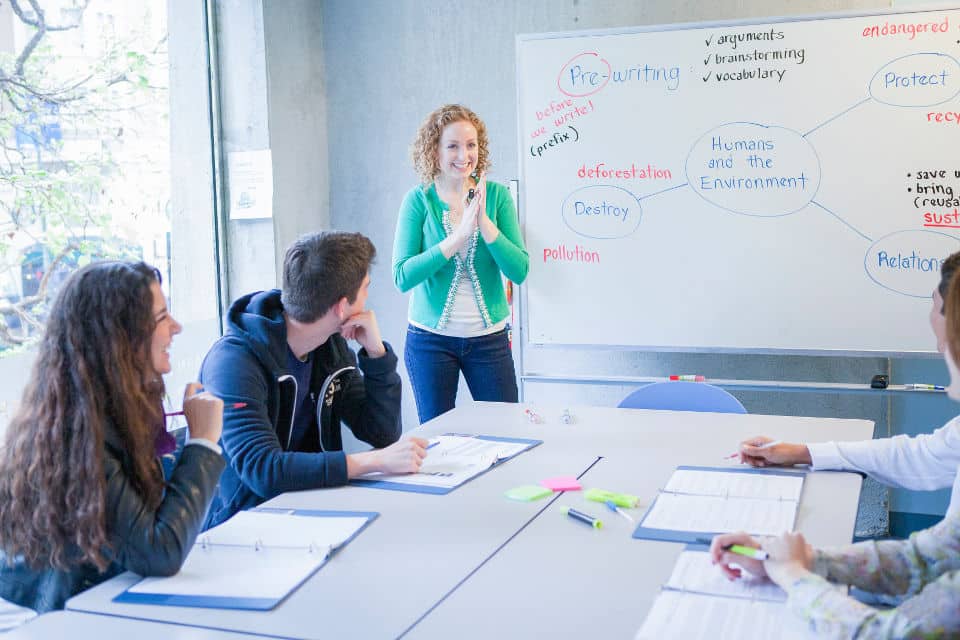 Other language study options in San Francisco
English courses and language courses for young people (children and teenagers) in San Francisco
How much does a language stay in San Francisco cost to learn English?
Course prices often vary depending on the nationality of the students. Indeed, some English schools in San Francisco offer discounts to people of various nationalities, including the French. For example, they can get prices with discounts of up to 35%. On the other hand, some language academies offer seasonal promotions, so the time of year you book the course may also play on the cost. Then contact us so that we can send you the costs that will apply to your language stay, including the prices of English courses in San Francisco with accommodation. And of course, your standard of living and consumption habits will also affect the cost of your English language stay in San Francisco. We therefore recommend that you inquire about the prices of daily life in San Francisco.
Sites of interest
Other pages you may be interested in
Learn English: