Want to learn English in Singapore? Receive free expert advice ✓Price of English courses in Singapore ✓Prerequisites ✓Dates ✓Accommodation (optional) ✓Can I work? Here you will find the answers to many of your questions, but contact us to receive our comprehensive advice service.
English Courses in Singapore for Adults
The language school mainly offers two options for English courses in Singapore (in groups): a semi-intensive course and an intensive course. There are 16 students maximum per class, but in general the average is around 9-10, and the minimum age is 16 years. All teachers are native speakers from the UNITED States, the United Kingdom, New Zealand and Australia. Programs are offered at five different levels: elementary, pre-intermediate, intermediate, intermediate-senior, and advanced. Each level lasts 12 weeks (with the intensive course) but you are free to register for less time (a week minimum). It is possible to start every Monday, except for absolute beginners who must start on the first day of a new term (4 dates per year).
Semi-Intensive English Courses in Singapore
Classes are Monday to Friday, in the morning (from 9:30am to 12:30pm) or in the afternoon (from 1:30pm to 4:30pm). This corresponds to 3 hours per day (15 hours per week). The lessons are mainly focused on conversation but they also cover basic writing, reading and listening skills. Students are exposed to different aspects of the English language such as comprehension, vocabulary acquisition, grammar and pronunciation.
Intensive English Courses in Singapore
Classes are Monday to Friday, in the morning (from 9:30am to 12:30pm) and in the afternoon (from 1:30pm to 4:30pm). This corresponds to 6 hours per day (30 hours per week). The content of the lessons is the same as that of the semi-intensive course.
Private lessons
Private English lessons in Singapore are of course personalized. They are therefore particularly suitable for people who are very busy and want to receive personal attention. These are lessons that adapt perfectly to the needs and objectives of the student. It is possible to study once or twice a week, in 2-hour sessions.
Description of language school to learn English in Singapore
The language school was established in 1997. And it aims to encourage international communication through the teaching of the English language. Initially, the main activity of the language institute was aimed at Japanese housewives and businessmen living in Singapore. Then it expanded and opened up to the Koreans, then to the international market. Today, in addition to the Japanese and Koreans, students from the following countries come to take lessons: Russia, Brazil, Spain, Italy, France, Thailand, Taiwan, China, Hong Kong, Turkey, Vietnam and South Africa. The language school in Singapore is conveniently located in the city's Shopping Belt (Orchard Road). And it is an official center to take the TOEIC exam. It has 12 classrooms (which can accommodate from 6 to 16 students), a multimedia room (with room for 15 people), a lounge to relax with internet access, and a reading or study room. Students have the opportunity to stay with a local family (homestay). This is the perfect opportunity to learn about Singapore, its culture and customs. In addition, spending time with your hosts will help you make much faster progress in English.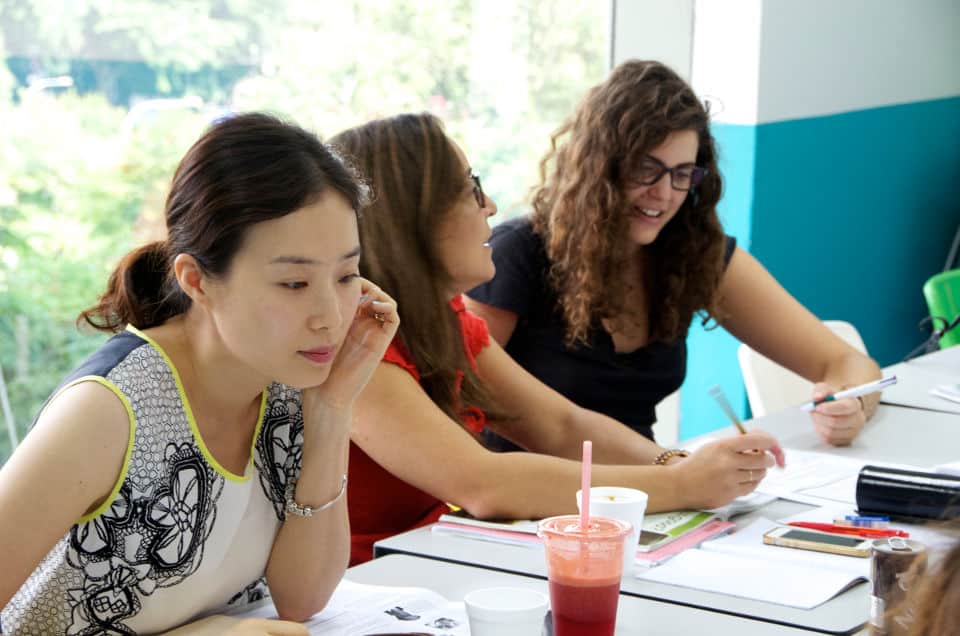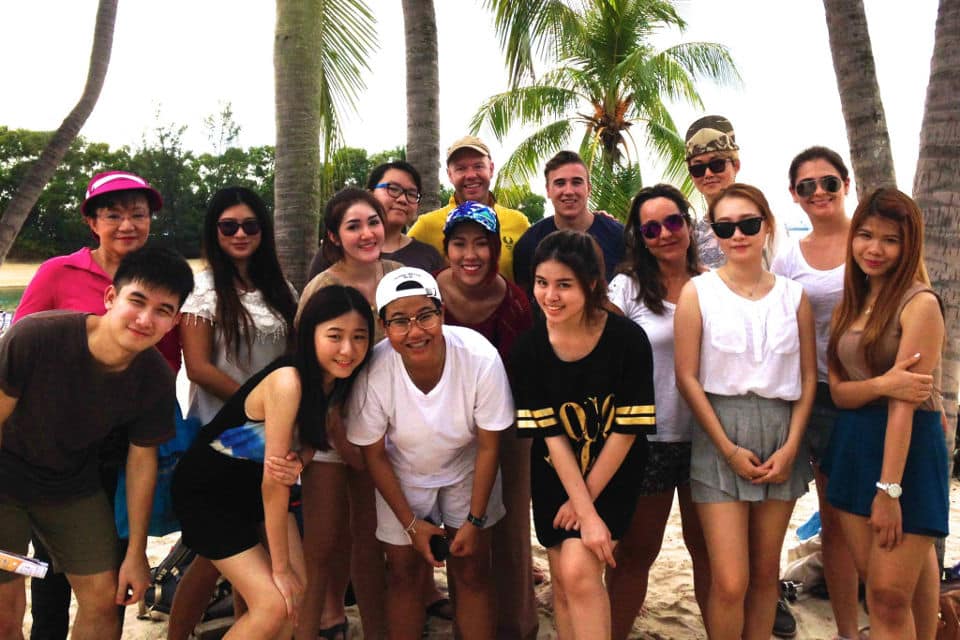 How much does a language stay in Singapore cost to learn English?
Singapore Language Academy Award (in SGD Singapore dollars):
Semi-intensive course of 15 hours of English per week:
1 week = 321 SGD
2 weeks = 642 SGD
3 weeks = 963 SGD
4 weeks = 1.284 SGD
6 weeks = 1.926 SGD
8 weeks = 2.568 SGD
10 weeks = 3,210 SGD
12 weeks = 3.852 SGD
additional weeks = 321 SGD per week
Intensive course of 30 hours of English per week:
1 week = 588.50 SGD
2 weeks = 1.177 SGD
3 weeks = 1,765.50 SGD
4 weeks = 2,354 SGD
6 weeks = 3.531 SGD
8 weeks = 4,708 SGD
10 weeks = 5.885 SGD
12 weeks = 7,062 SGD
additional weeks = SGD 588.50 per week
Optional accommodation with a local family (homestay):
Investment fee = SGD 214
Single room = between SGD 824 and SGD 974 per week
Double room = between SGD 525 and SGD 637 per week per person
Other costs:
Registration fee = SGD 85.60
Training materials = between 42.80 and 64.20 SGD
Photocopies = SGD 5.35 per week
Optional transport service between the airport and the accommodation in homestay: Arrival = 128.40 SGD; Arrival + departure = 214 SGD.
Bank charges = SGD 30 (per transaction from abroad)
All costs include a Singapore tax of 7%.
Other costs in Singapore:
Course prices may also sometimes vary depending on the time of year at which lessons are booked with the English school in Singapore. Then contact us so that we can confirm the prices that will apply to your language stay, including the prices of English courses in Singapore with accommodation. As for the other costs during your language stay, they will of course depend on your standard of living and your consumption habits. Then you should also check the prices of daily living in Singapore.
Why choose Singapore for your English language stay?
Singapore is not necessarily the first country that comes to mind when considering traveling abroad to learn English. And yet it is a very good option. Indeed, it is considered one of the most fascinating destinations in the world for international travelers. And the majority of the population speaks English. You will therefore have the opportunity to learn and practice the language by communicating in everyday life. Singapore has some of the most popular tourist attractions in Southeast Asia. You will find the island of Sentosa, the botanical gardens, the famous zoo, the Esplanade, and highly rated museums. In addition, you will discover what makes Singapore unique in comparison with its neighboring countries. Its history, traditions, customs, cuisine, language, and social environment make it a modern and traditional country at the same time. Learn more about Singapore by reading the tourist information. On the other hand, you will be introduced to new activities that may enchant you. Perhaps you will discover a passion for cooking Malay, Chinese or Indian dishes. Or maybe you'll decide to check out a work on display at Fort Canning Park, or visit one of the famous local clubs for a night of dancing.
Can I work while taking an English course in Singapore?
By taking lessons at the language school we work with you will not be able to work legally in Singapore. Indeed, by enrolling in this linguistic academy it is not possible to obtain a student visa. The only option is therefore to enter with a tourist visa (unless you already have another kind of visa (work, residence,…).
Other pages you may be interested in
Learn English: