Receive free expert counselling for studying English in Toronto ✓Prices of English courses in Toronto ✓Prerequisites ✓Dates ✓Accommodation ✓Can I work? You will see here some of the available options at the time this page was published, but contact us and we will send you up-to-date information for your language immersion experience in Toronto.
Accredited English Courses in Toronto
The English language school in Toronto offers a wide variety of lessons to choose from. This will allow you to decide what to study and when, with teachers who can adapt to your way of learning. The programs are therefore adapted to the needs of anyone who wishes to study English.
It is possible to change the class schedule at any time. This allows students to adapt their program according to their objectives and needs.
The hours of these English courses in Toronto are from 9am to 5pm from Monday to Friday. Each lesson lasts 55 minutes. You can sign up for courses of three, four, five, or six daily hours.
Intensive English Courses in Toronto for Adults
The language academy in Toronto offers the following lessons:
English course for beginners (people with little or no knowledge of English)
The lessons focus on basic language skills (essential vocabulary and grammar). After this course which lasts between four and eight weeks, students can be accepted into courses that require a higher level.
Conversation course in English
The goal is to accumulate a lot of practice in oral expression. Teachers will correct your mistakes and help you develop your confidence through discussion and debate.
English grammar course
It is one of the most important classes. Teachers use the latest grammar books and communication techniques in interactive written and oral lessons.
Vocabulary course
Learning English obviously requires the acquisition of a practical and functional vocabulary. You will study the language in a more pragmatic way through current events, social themes, and economic relations.
Course focused on pronunciation
During this English course in Toronto you will learn the sounds of consonants and vowels. And you will also be taught to speak with the tongue and lips in the correct position, through exercises of rhythms, accentuations and intonations. The goal is to speak like a person whose mother language is English.
Idiomatic expressions course
Idiomatic expressions are often what is missing to be able to speak a language perfectly. They are essential to understand and dominate English on a daily basis.
Listening comprehension course
The lessons focus on the ability to understand words when spoken quickly, with regional accents and contractions. The English language school in Toronto uses multimedia materials to train students' ears. They will be able to detect differences in intonation, rhythm and tone.
Reading comprehension course
You will learn how to practice vocabulary, grammar and pronunciation. Teaching is done through textbooks, novels, newspapers and magazines. Once you reach an intermediate level, you will be able to learn how to handle specific ideas in various contexts. This will help you understand their meaning in texts. Advanced students learn to grasp secondary or hidden meanings and figures of style (comparisons, metaphors, etc.).
Writing course
Students learn to write letters, stories, business correspondence, essays, and resumes.
Business English course in Toronto
You will learn business and financial vocabulary, how to make presentations, and write in an effective style to succeed in selling. Teaching also includes negotiation and interview techniques. There is a possibility of obtaining a certificate at the end of the course.
TOEFL (Test of English as a Foreign Language) preparation course
The TOEFL is an exam required by the majority of universities and schools in Canada and the United States.
TOEIC (Test Of English for International Communication) preparation course
The TOEIC is the exam many employers ask for positions that require the use of English to communicate in a business context.
IELTS (International English Language Testing System) preparation course
The IELTS exam is accepted by many universities, schools, companies and governments around the world.
Description of the English language school in Toronto
The English language school in Toronto was founded in 1969. It is one of the most reputable language academies in Toronto and Canada. In addition to English classes the institute also organizes social activities, excursions, as well as cultural and tourist visits.
There is a dozen different levels that range from total beginner (without any knowledge of English) to advanced. On the first day each student takes a test to assess their skills in grammar, vocabulary, and reading comprehension. Each new student is also interviewed by an advisor to assess their level of conversation and listening comprehension. This will allow the student to be placed in a program and a group adapted to his level and objectives.
Throughout the duration of the program there are regular reviews and interviews to see the progress made and to adapt the program accordingly. Students can also meet with a counselor at any time to discuss progress in class.
The language school provides students with computer labs. These are available at any time during opening hours, while you study English in Toronto.
Accommodation during your English course in Toronto
The Language academy's staff can help you find accommodation with a Canadian host family in Toronto (single room with meals). Families are carefully selected and regularly inspected to ensure quality. The school will send the name, address, and phone number of the host family approximately two weeks before you leave for Canada. Your flight details should be confirmed as soon as possible, preferably fifteen days before your arrival.
For those who are not interested in living with a family it is possible to be accommodated in a student residence. Or you can also look for other options on your own.
Upon arrival at the airport, if you don't want to take a taxi or a bus, the English language school can arrange private transportation to take you to your accommodation.
Extracurricular activities:
Toronto has a lot to offer to its visitors and the language academy organizes a wide variety of activities for all tastes: hockey, baseball, museums, festivals, cultural events, amusement parks, restaurants, picnics, etc.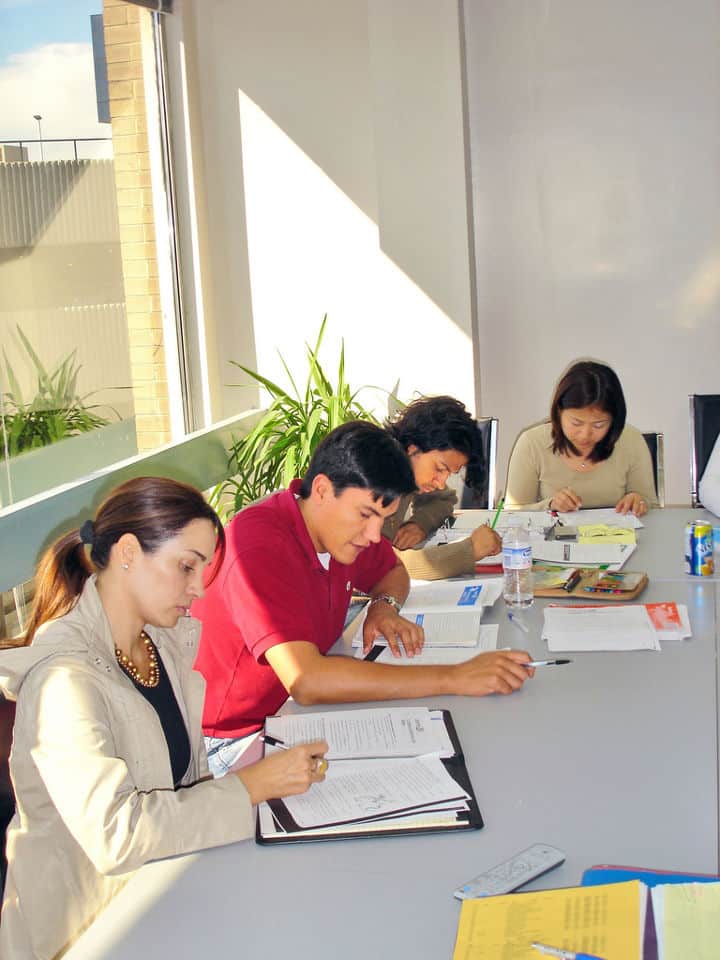 Other language study options
How much does it cost to have a language immersion experience in Toronto?
Lesson prices may vary depending on the nationality of the student. For example, some English language schools in Toronto offer discounted prices for Europeans, Middle-Easterner, Africans, etc. Some nationalities can receive discounts of up to 35% of the normal price. There are also seasonal promotions, so the time of year you book the course can also affect the cost. The best is that you contact us so we send you the costs that will apply to your language stay, including the prices of English courses in Toronto with accommodation.
And of course, your standard of living and consumption habits will also affect the cost of your English language stay in Toronto. We therefore recommend that you check the prices of daily life in Toronto.
Sites of interest