Want to learn English in Wellington? Receive free expert advice ✓Prices of English courses in Wellington ✓Prerequisites ✓Work ✓Dates ✓Accommodation (optional). You will be able to see here some of the available options and you will surely find the answers to many of your questions. But contact us so that we can send you more details, including program prices.
Accredited English Courses in Wellington for Adults
The language school offers various English courses in Wellington. Depending on your learning objectives, you can choose between the following options:
Intensive General English Courses in Wellington for Adults
These are ideal lessons for students of all levels, beginners to advanced, who want to develop their language comprehension skills. You will take weekly tests to assess your progress. And you will receive regular advice, which will allow you to gain confidence in an encouraging atmosphere. The lessons will introduce you to the local culture through activities and projects. In addition, they will allow you to make new friends from all over the world. The teachers at the English school in Wellington are highly qualified, friendly and always ready to help their students. The academy offers three possible schedules for English courses in Wellington:
Full-time:
This course includes 23 hours of English lessons per week. These take place from 9am to 12:15pm from Monday to Friday and from 1:15pm to 3:15pm from Monday to Thursday.
In the morning (part-time):
You will learn English for 15 hours a week, from 9am to 12:15pm monday to Friday.
Afternoon (part-time):
This course consists of 8 hours of English per week, from 1:15pm to 3:15pm monday to Thursday. In each class there are an average of 12 students (maximum 15), and the minimum age is 16 years. And it is possible to start classes every Monday. However, it is recommended to start on the first day of a new session (each session lasts 10 weeks).
IELTS Exam Preparation Course
This English course in Wellington will help you achieve your goals with the IELTS (International English Language Testing System) punctuation you need. The teachers have experience in preparing for this exam. And the English school in Wellington is an approved centre for the preliminary test. The Language Academy offers lessons for 3 levels of IELTS. However, it is necessary that a minimum number of students register to be able to open a class. The course is designed to improve your score by 0.5 points in 5 weeks. And so there are start dates every 5 weeks. The 3 schedules (full time, morning, afternoon) are available for this course. On the other hand, the language school for learning English in Wellington has agreements with different colleges and universities. And it allows students to enroll in these schools without having to take the IELTS exam. The language school in Wellington also offers a PREPARATION COURSE for the TOEIC (part-time programme).
Cambridge Exam Preparation Course (FCE/CAE)
The Cambridge exams are the most recognized English exams in the world. They are therefore accepted by employers, educational institutions and government departments as proof of proficiency with the English language. By taking this course, you will regularly perform a blank exam. This will therefore help you prepare for the conditions of the actual exam.
Business English Courses in Wellington
This is a 5-week program that will help you strengthen your business practical skills that you can use in real life. Topics covered include: professional etiquette in different cultures, interview techniques, telephone and meeting skills. At the end of the program you will be able to make presentations with confidence. You must have an intermediate level to participate in this 23-hour course per week. It is therefore necessary to pass an evaluation before being able to register.
Preparation courses for teaching English
The language school offers the following courses for those who want to become English teachers:
Cambridge CELTA (Certificate in Teaching English to Speakers of Other Languages)
TESOL (Teaching English to Speakers of Other Languages) + TKT (Teaching Knowledge Test)
TECSOL (Teaching English to Child Speakers of Other Languages) + TKT
Preparation workshops to work
In New Zealand student visa holders have the opportunity to work up to 20 hours per week. And to obtain this visa you must register for a course of at least 20 hours per week for a minimum of 14 weeks. The job has nothing to do with school, it is up to the student to find a job if he wants to work part-time. However, the school offers the following services:
Help with curriculum vitae writing
Preparation of interviews
Assistance in obtaining the IRD number
Advice on where to look for work in New Zealand
It is important to know that these are always positions at the bottom of the ladder in the service industry for which foreign students succeed in getting hired, i.e. positions in restaurants, cafes, hotels, shops, farms, etc. It is also important to note that the school requires full payment of the study program before sending the registration confirmation necessary for obtaining the visa. And the immigration services will require you to demonstrate that you will be able to support yourself financially throughout your stay in New Zealand (NZ$1,250 per month in addition to the English course and the round-trip flight).
English program + barrista
Learn the art of making coffees after your English lessons. The workshops are offered in a café-style setting and a certificate attesting to your skills as a barrista will be given to you once the course is completed. An intermediate or higher level is required to be able to participate in these workshops. These last between 9 and 15 hours in total. And you have to register for an English course of at least 4 weeks.
Description of the language school to learn English in Wellington
The English school in Wellington has been welcoming foreign students since 1984. It offers high-quality, accredited* language programs to students of all ages. *From English New Zealand and NZQA (New Zealand Qualifications Authority). The Language Academy is located in a modern building in the centre of the city. A few blocks away you will find the famous cuba street and the sea. And it is also close to museums, galleries, and other services (shops, banks, public transport). The airport is only 20 minutes away. The atmosphere is very multicultural since there are about 25 different nationalities, and an average of 90-130 students. Other features of the language school to learn English in Wellington:
Relaxation lounge with access to computers
Free wifi and internet
Bookstore
Activities organized in the afternoons and evenings, and excursions on weekends
Grammar workshops and conversation and pronunciation classes
The English school also has a branch in the city of Auckland. And it offers the round-trip flight (Auckland-Wellington) to those who sign up for a full-time course of at least 12 weeks (with minimum 4 weeks at each location). As for accommodation you can choose between a variety of options offered by the language school:
Single room in a local host family (homestay)
Shared apartment
Private or shared room in a residence or youth hostel
However, you can look for accommodation on your own if you prefer.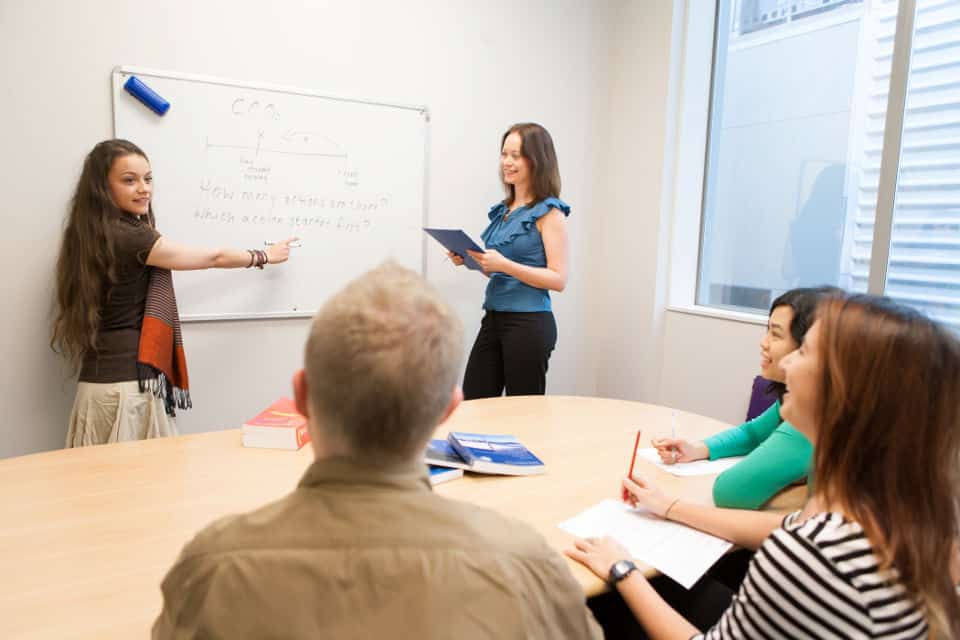 Other language study options in Wellington
How much does it cost to learn English in Wellington?
Depending on the school, course prices may vary depending on the nationality of the students. By the way, the English school in Wellington described above offers discounts for people from many countries, including France. The French can indeed benefit from discounts of up to 25% of the regular price. In addition, some academies offer seasonal promotions, so the time of year you book the course can also play on the cost. Then contact us so that we can send you the costs that will apply to your language stay, including the prices of English courses in Wellington with accommodation. And of course, your standard of living, and therefore your consumption habits, will also influence the cost of your English language stay in Wellington. We therefore advise that you inquire about the prices of daily living in Wellington.
Sites of interest
Other pages you may be interested in
Learn English: