Receive free expert counselling for French lessons and language camps for children and teenagers in Canada ✓Prices ✓Dates (summer/winter) ✓Prerequisites ✓Accommodation (optional). You will see here some of the available options at the time this page was published, but contact us and we will send you up-to-date information for your child's French language immersion experience in Canada.
Destinations for French language camps for children and teenagers in Canada
In addition to the program described below on this page, we can counsel you for language immersion programs with French lessons for kids and teens in Canada in the following destinations: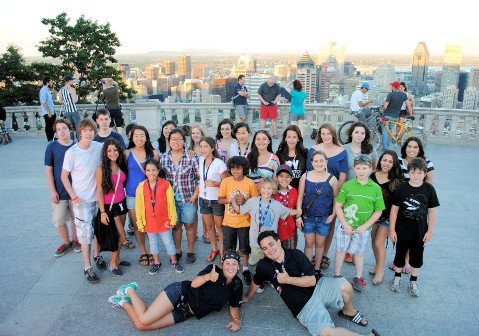 There are a few other French language schools in Canada that offer programs for children, even in other cities. So if you are interested in a program in another part of the country do not hesitate to contact us and ask us. And we will gladly investigate to find you a French camp in the Canadian city of your choice. Or we can also advise you on programs in France. There we work with schools that offer French camps for foreign children in various parts of the country, so do not hesitate to ask us.
Summer camps with French lessons for children and teens in Canada
These French language camps in Canada are designed for teenagers from 10 to 16 years old*. They are organized by one of the best language schools in Montreal, located in the heart of the city. They provide foreign children the opportunity to learn French** and to participate in various activities or sports in Montreal. The young learners will share this experience with other Canadian and international students.
*If you are looking for a summer program for children younger than 10, we work with another language camp in Montreal that accepts children from 7 years old.
**Note that the same school also offers an English language immersion program in case you are interested in that language. Contact us and we will send you the details.
When you enrol your child in a camp, you can choose the complete program, which includes residential accommodation, or the day program (without accommodation).
French language day camp in Canada:
The summer French language day program option welcomes students traveling to Canada with their family, but also local children who want to practice or learn French. The program takes place Monday through Friday, from 8am to 3:45pm. You can add additional hours until 5pm (babysitting service). It is also possible to add dinner and activities until the end of the day, as well as weekend trips. You can register your kid for the number of weeks that you want from the beginning of July until the beginning of August. So you can enrol your child for 1, 2, 3 or 4 weeks maximum. The day camp includes French language lessons for kids, activities, lunches, materials, a certificate and a camp t-shirt.
Complete French language camp in Canada:
The residential French summer camp includes:
French language lessons for kids
Private room in the residence
3 meals/day
Weekend trips
Custody letter
3 activities per week (on and off campus in the afternoons)
Materials
Certificate
Camp T-shirt
Health insurance
Transfer between the airport and the residence (round trip)
You can register your child for 2, 3 or 4 weeks.
Characteristics of the residence:
24-hour supervision
Separate accommodation for girls and boys
Access to the laundry
Communal space in all buildings
Organization of the French language immersion programs for kids in Canada
The French language school offers two summer camp options. You can choose a sports program, with 15 hours of French classes + 15 hours of sports per week. Or you can choose a camp more focused on learning the language which includes every week: 15 hours of French lessons for children + 9 additional hours during which young people learn French interactively + 2 outings around the city (3 hours each).
Sports camp with French lessons for children:
All activities (classes, sports, games, meals) take place at McGill University. The advantage of this campus is that young people are able to experience nature in the heart of Montreal, just a few steps from downtown.
The staff and instructors are multilingual, and of both sexes. They are experienced and qualified in working with children. They also have first aid certificates.
The program is full of fun and allows young foreigners to practice sports with Canadian children. Sports are organized professionally by the university.
Campers enjoy a very diverse program that includes different sports every day of the week. Indeed, the university has extensive athletics facilities. Students play different sports every day, in rotations of 45 minutes each.
The goal is to introduce children to various activities, and thus teach them an active and healthy lifestyle. Fair play and sportsmanship are also promoted.
French language immersion camp in Canada for children:
This option is designed children and teenagers who want to experience a 100% immersion in the language. Campers will have the opportunity to improve their communication skills in French at all times during the camp. Indeed, in addition to the French lessons, they will participate in interactive activities and they will always be encouraged to use the French language during activities and excursions.
French lessons for kids and teenagers in Canada:
During the French lessons in Canada, children are grouped according to their age and French level. The classes focus on improving the 4 language skills: speaking, listening, reading, writing. The teachers are highly qualified and have experience teaching children. They use a variety of activities to stimulate students intellectually. Before starting the camp, students take an online level test. And in addition, an oral interview is held on the first day to place students in a class that corresponds to their level.
Trips and excursions:
Montreal's location makes it the perfect city to take part in weekend trips to several cities on the east coast of North America. For exemple, it is less than 3 hours from Quebec City where kids can discover more of Canada's French-speaking culture. And the border with the United States is very close to visit places of interest over there.
2-week programs include 1 or 2 weekend trips within Canada*
3-week programs include 2 or 3 weekend trips within Canada*
4-week session include 3 weekend trips within Canada
*depending on the start date
Examples of trips and excursions: departure to the Mirabel Trade Centre, trip to Ottawa (Parliament, ByWard Market, Rideau Canal, museums), attend sports game, Quebec City (Old Quebec, Frontenac Castle, Montmorency waterfalls), La Ronde Six Flags Park, trip to Toronto (CN Tower; City center; Niagara Falls Boat Tour), Trip to New York* (Times Square, Central Park, Chinatown, Empire State, Rockefeller Centre, Greenwich Village, Statue of Liberty).
*additional cost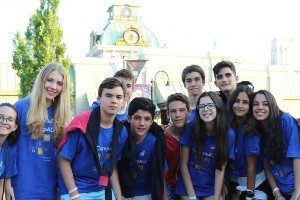 Activities:
Example of activities: cooking competition, dancing, talent contest, treasure hunt, initiative games, cooperative games, theme nights, science games, secret friend, water balloon games, walks in Mont Royal, farewell grill, etc.
Winter language immersion program for teenagers in Canada
This winter camp is offered by the same French language school that offers the summer program in Quebec. The dates during which it is available are from the beginning of January to mid-February, so the maximum duration of the winter program with French lessons for juniors in Canada is 6 weeks. It is designed for teenagers from 12 to 17 years old, but exceptions can be made and the school may accept children from 10 years of age. However, when registering a 10-11 year-old, you must be aware that the child will be with older teens.
The program is not offered at the language school itself, but at a private school in Quebec City. That means that, even if foreign campers are in a closed group during lessons and activities, they will be surrounded by young local Canadians.
The program combines French classes with multi-activities, so you can not choose specific activities as during the summer. Usually, French language lessons are in the mornings, from 9am to 12pm, and activities take place during the afternoons and on weekends. Activities include visits to Quebec's tourist spots and excursions outside the city. On Saturdays campers will have the opportunity to ski or snowboard. Transportation to all activities is included, as well as medical insurance. Sundays are days of free time.
The only accommodation option during the winter program is in homestay (home of a local Quebec family) so there is no possibility of staying in a residence. All meals are included (3 daily) and also transfers to and from the airport upon arrival and departure from Canada.
Sites of interest