Looking for French camps/courses in Nice for children/teenagers? Receive free expert advice ✓Costs ✓Dates ✓Requirements ✓Hosting (optional). Here you will see some of the available options, but contact us to send you more complete information, including pricing.
Camps to learn French in Nice for children and teenagers
The dates of the French camps in Nice for foreigners are:
End of March to the end of October for teenagers from 13 to 17 years old.
Early July to early August for children from 8 to 12 years old.
The French language immersion camps in Nice are accredited by the government of France. So it guarantees students an instructive and fun learning experience in a high-performing environment. Packages include:
French classes in Nice for foreign children and teenagers (includes materials).
Accommodation and meals.
Activities and sports (water and outdoor).
Supervision 24 hours.
Transfer from the airport or train station (round trip).
Excursions (one full day* and one half day per week). *For stays of 2 weeks minimum.
Certificate of attendance at the school with mention of the level acquired.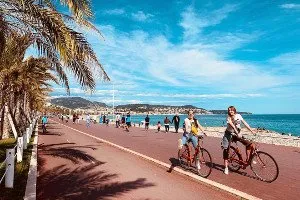 French courses for foreign children and teenagers in Nice
Outside the summer French courses in Nice for foreign children and young people take place in the main school. That is, in the same building where adults study throughout the year. And during the summer (months of July and August) they take place in the summer facilities.
Campers can choose from different French class options. The standard course consists of 20 lessons of 45 minutes per week (in the mornings or afternoons) and consists of the methodical acquisition of vocabulary, linguistic structures, grammar, and the development of communication skills. The intensive course in Nice for children and teenagers consists of 28 lessons of 45 minutes per week. In addition to the standard course content, it covers learning activities that will enhance your oral skills and your knowledge of French culture and civilization. It is also possible to register for individual lessons that allow you to adapt to specific needs. For example: phonetic and grammar correction, exam preparation (CCIP, DELF,…). Private lessons can be taken separately (10 lessons minimum per week) or in addition to group classes. For group French classes there is a maximum of 15 students per classroom. The minimum duration is one week and all levels of French are accepted. However, there are specific start dates for total beginners.
Excursions and activities during language immersion programs in Nice
Examples of organized excursions:
Half-day: flower market, Lascaris palace, Grasse (perfume factory and typical village), Saint Paul de Vence (artists' village and museum of modern art), Beaulieu (villa Kerylos, Greek house), Eze village, Antibes (ancient city and Picasso museum).
Full day: Cannes and Lérins Islands, Monaco (Sea World museum, Monte Carlo and palace square), Saint-Tropez.
Young people from 13-17 years old can opt for a special program (for an additional cost) that includes the intensive practice of a specific activity every afternoon: tennis (during the last week of April, the first week of May, and July-August) or diving (from May to September). You can choose accommodation with a host family* or in one of the residences with which the institute works. But the latter option is only available during the summer. *The word "family" should not be taken literally. Indeed, it can also be a single mother, a single father, or a couple without children. However, it is always about taking into account your preferences.
Places of interest
Other pages you may be interested in