Looking for French camps/courses in Paris for children/teenagers? Receive free expert advice ✓Costs ✓Dates ✓Requirements ✓Hosting (optional). Here you will see some of the available options, but contact us to send you more complete information, including pricing.
Camps to learn French in Paris for children and teenagers
For its safety, its quality teaching, its comfort, its hygiene and its healthy food, the summer camp in Paris for foreigners meets the demands of parents. And it also pleases teenagers interested in improving their French skills, in discovering Paris, in meeting other young foreigners from various parts of the world while participating in fun, sports and cultural activities. French camps in Paris are offered from the beginning of July until mid-August. The residential program accepts young people from 12 to 17 years old only. For only French courses in Paris (without accommodation) children from 6 years of age are accepted. Children can also participate in the lessons + activities, but on the condition that parents also participate in the activities. All French classes for children and teenagers take place in the summer residence. They are taught by qualified teachers, and there is a maximum of 15 students per class. The summer residence is located in the south of Paris, next to the metro station "Corentin Celton". *If you are looking for a full summer program (with accommodation) for children, we work with other French camps on the Côte d'Azur and in Normandy that accept children from 8 years old.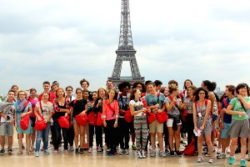 French camps in Paris complete with accommodation in residence include:
Accommodation in four-bed rooms with shared bathrooms
Meals
French classes for foreign children and teenagers (15 hours per week)
Activities and excursions
Continuous monitoring with 24-hour surveillance
French courses in Paris for foreign children and teenagers
Teaching focuses on oral language communication skills. And diverse authentic materials such as songs, TV shows, movies and magazines are used. In addition to the 15 hours per week it is possible to choose to take additional lessons (5 hours) for an extra cost. These can be mini-group lessons (focused on writing and grammar) or individual lessons. The French language school, founded in 1988, gained prestige thanks to its innovative pedagogy. The fact that his teaching method has been copied by other institutes is proof that he has generated interest and success. The method is based on the principles of cognitive learning that all of us use when learning our native language. It is important to note that the school teaches the everyday French language. so it is not limited to the use of textbooks. The reason is that, despite the high quality of some books, they can never reflect the authenticity of the French language, as it is spoken on the street, TV, radio, cinema, French culture. The goal is to create real-life situations that allow the use of language to be put into practice. It will also help you develop learning strategies. So you can use the communication skills you already have with your own language to communicate in French.
The main goal is for them to reach a level of fluency that will allow them to communicate in French efficiently and effectively. To achieve this you will need a solid command of the language and a deep understanding of French culture. Oral communication is a priority, so you will learn to listen and speak naturally and appropriately. You will be taught to express yourself fluently and with correct pronunciation and intonation.
Excursions and activities during language immersion programs in Paris
All activities and outings are conducted in French, so students can put into practice what they studied in classes. And they are organized by qualified supervisors recognized for their abilities to work with groups of young people. After dinner participants are accompanied on walks around the city or stay on campus where events are organized. The school also offers adult programs in case parents are interested in studying at the same time as their children. In addition, it is possible to book accommodation for the whole family in a studio or apartment near the institute.
Places of interest
Other pages you may be interested in