Receive free expert counselling for studying French in Canada ✓Prices of French courses in Canada ✓Prerequisites ✓Can I work? ✓Dates ✓Accommodation. You will see here some of the available options at the time this page was published, but contact us and we will send you up-to-date information for your French language immersion experience in Canada.
Where can I take accredited French courses in Canada
We can counsel you if you want to study French in the following Canadian cities: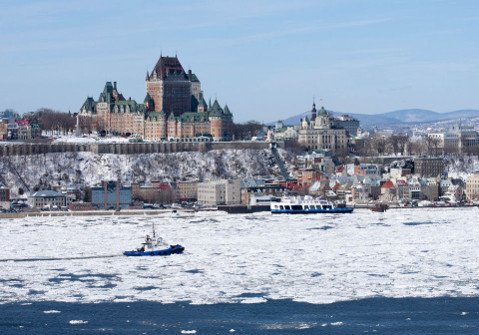 What are the prerequisites for foreigners who want to study French in Canada?
Visa Requirements
If you want to take a French course in Canada for more than 6 months, you will need to apply for a student visa (Study Permit), whatever your nationality. And for courses shorter than 6 months, the requirements vary depending on your country of origin. Indeed, citizens of many countries do not need a visa to enter Canada as tourists (for example most Europeans, Japanese, Koreans, Mexicans, Chileans, and some others). You can see the full list on the Canadian government's page. If your country is not on the list, you must obtain a tourist visa before traveling. In any case, you can study French in Canada as a tourist without any problem.
Before applying for the student visa we will have to confirm your registration in the French language school of your choice. Indeed, the school's letter of acceptance is one of the documents you will need in order to apply for the visa. In addition, before applying for a student visa, you will first have to obtain a CAQ (Certificat d'Acceptation du Quebec). It is an immigration document specific to the province of Quebec and it costs approximately 110 CAD. Most French language schools in Canada can take care of the CAQ procedure for their students (for an additional cost) since it has to be processed over there.
Once you are registered for a course and have received the letter of acceptance and the CAQ, you can apply directly at the Canadian embassy in your country. Or you may also contact a Canada Visa Application Centre (CVAC) so they assist you with immigration application. Find your country's CVAC.
Financial requirements
One of the main requirements for obtaining a student visa is to prove that you have access to sufficient financial funds to cover all your expenses during your stay in Canada. The minimum amount to show in order to prove that you can support yourself is 917 Canadian dollars for every month you plan to be in Canada (in addition to the cost of the French course and the round trip flight). Please note that another person can sponsor you, such as a family member or a friend. In that case the person will have to sign a document committing to support you financially. And the sponsor will obviously have to show their account statements. See all requirements.
We recommend that you consult the Canadian representation in your country for more information.
French level requirements
There is no minimum level requirement except for some very specialized courses (for example, an intermediate to advanced level is required for exam preparation courses.
Our agency works with schools in Canada that specialize in teaching languages (French and English) to foreigners. So, for most intensive French courses in Canada, all levels are accepted, from beginner to advanced.
Canadian universities also offer language classes, but with specific dates (3-4 dates per year in general). Private French language schools offer more flexibility in terms of start dates (usually every Monday).
Why choose Canada for your French language immersion experience?
The first country that comes to mind when one considers traveling to study French in immersion is obviously France. However, there are several other countries where French is the official language. Canada is one of them, and especially the province of Quebec.
Why is Canada a good option for foreigners who want to have a language immersion experience in the French language?
More than 75% of the population in Quebec province is French-speaking by birth. And 95% of people in Quebec speak French as a first or second language. Actually, the vast majority of English-speaking people in Quebec live in the city of Montreal, and in specific neighbourhoods. There are also French-speaking communities in other provinces of Canada, such as Manitoba, Alberta or Ontario, but they represent a very small percentage.
Quebec is a very good option as it is very accessible to people from various countries. And many foreigners enjoy living, visiting or studying there. Quebecers are known for being extremely friendly, always willing to help or talk to anyone they meet on the street.
It is true that in the province of Quebec people speak French with a different accent, with stronger intonations. Additionally, in Quebec they use many typical phrases and jargons. So some people think that if they study French in Canada they will not be understood in other countries where French is spoken. But this is a false impression, you will still learn an authentic and appropriate French that you can use in other French-speaking countries. In addition, most Quebecers can speak with a more neutral accent, and that's what they almost always do when they meet a foreigner. So don't worry, the French you will learn in Canada is just as good and useful as the French from France.
Learn more about Canada by reading tourist information.
How much does it cost to study French in Canada?
Prices of French courses in Canada may vary depending on several factors. First, the nationality of the student can influence the cost of lessons. Indeed, most French language schools in Canada offer special prices for students from certain nationalities. For example, Americans and Europeans can benefit up to 45% discount.
Language schools sometimes also offer special promotions during certain times of the year. The best is that you contact us so we send you the costs that will apply to your language stay, including the prices of French courses in Canada with accommodation.
Additionally, the cost of living a French language immersion experience in Canada will obviously depend on your standard of living and on your spending habits. We recommend that you check the prices of daily life in Canada.
Can I work while studying French in Canada?
Unfortunately foreigners cannot work while taking a French course in Canada (even with a student visa), unless you obtain a working holiday visa (only available for people from certain countries). However, there are other possibilities to study and work in Canada for foreigners in case you are interested in that option.
Please note that in France foreigners who have obtained a student visa are allowed to work part-time while they study French in a language school (conditions apply).