Receive free expert counselling for studying French in Montpellier ✓Prices of French courses in Montpellier ✓Prerequisites ✓Dates ✓Work ✓Accommodation. You will see here some of the available options at the time this page was published, but contact us and we will send you up-to-date information for your language immersion experience in Montpellier.
Accredited French courses in Montpellier
The French language school in Montpellier offers a variety of classes all year round.
You can start a French course any Monday, except if you are a total beginner. In this case, there are start dates every month.
The levels at the language academy in Montpellier are those of the Common European Framework: total novice, A1, A2, B1, B2, C1.
Standard French course in Montpellier
This is the best option if you want to learn French and still have enough time to explore the culture of the south of France.
There are 20 group lessons per week from Monday to Friday (so 15 hours per week as each lessons lasts 45 minutes). These French lessons are focused on all the aspects of the language: speaking, reading, writing and listening. The lessons deal with cultural and current issues to help you discover the French culture.
Intensive French course in Montpellier
This is the best option if you want to progress quickly. Every week, you will take the standard course in the morning and 6 or 10 additional group lessons in the afternoon.
Intensive 20 + 6 = standard course + 6 additional lessons on Tuesdays and Thursdays
Intensive 20 + 10 = standard course + 10 additional lessons on Tuesdays, Wednesdays and Thursdays
Combined French course
This is the best option if you want to make rapid progress and focus on specific areas of the language or a specialized vocabulary. In addition to the standard course you will receive 5 or 10 weekly individual lessons in the afternoons. The content of the private lessons can be tailored to your own professional, academic or personal needs.
Combined 20 + 5 = standard course + 5 individual lessons
Combined 20 + 10 = standard course + 10 individual lessons
DELF and DALF exam preparation course
You can combine the standard French course in Montpellier with 6 lessons (two afternoons per week) that will focus on the DELF/DALF exams' requirements.
DELF and DALF are the best language proficiency assessment certifications for non-French speakers. And they are accredited by the French Ministry of Education. In addition, these certifications are valid for life and recognized worldwide.
The French language institute in Montpellier has a lot of experience in preparing students for this exam, with a success rate of almost 100%.
It is recommended to take this class for a minimum of 4 weeks.
French and Cooking Course
This course combines 20 French lessons (standard course) with 8 cooking lessons with a chef. It is available all year round for all levels of French and cuisine.
During the cooking classes you will be with French students. In fact they take place in a professional and well-equipped cooking school, about 5 minutes walk from the language academy. You will have the opportunity to try the meals you will have prepared.
Description of the french language school in Montpellier
The French language school in Montpellier is one of the most established and recognized academies in France. Every year it welcomes thousands of international students coming from many different countries.
Since 1996 the French academy in Montpellier has been organizing language immersion stays for adults and young people, groups and individuals. The atmosphere is always friendly, multicultural and multi-age. It provides high-quality French classes, taught by competent and enthusiastic teachers.
It is located in the pedestrian area of the historic centre of Montpellier so it is very easy to access coming from various parts of the city, and it is close to many cafes, bars, restaurants, shops, museums, gardens, etc. There are bus and train stations that can take you directly to sandy beaches.
Language school facilities:
6 bright and spacious classrooms
Modern computers with high-speed internet access and free Wi-Fi access
A common room for relaxing and socializing, with drinks available (tea, coffee, chocolate, juices)
A terrace to relax between lessons and enjoy south of France's sunny days
A resource centre with a selection of French films, French literature, and teaching material that can be used in complement to your studies
Characteristics of the institute:
The language school in Montpellier is accredited with the Common European Framework of Reference for Languages (CEFR), and with the FLE ("Français Langue Etrangère") quality label.
All teachers are native French speakers and have university degrees and FLE qualifications. They have experience teaching French as a second language in an enthusiastic, fun and effective way, which guarantees high quality courses.
Class sizes are small, with 5 to 8 students per classroom overall and a maximum of 10. As a result, each student has more time to talk and participate during classes, receives more personalized attention, and progresses more quickly.
The classes are adapted to all levels, from total beginner to advanced. Each student's level is re-evaluated each week to place them in a higher-level group if necessary.
Lodging:
The language school in Montpellier offers several accommodation options that suit everyone's needs: at the home of a carefully chosen local family (with the option of including meals), in student residences, in hotels, etc.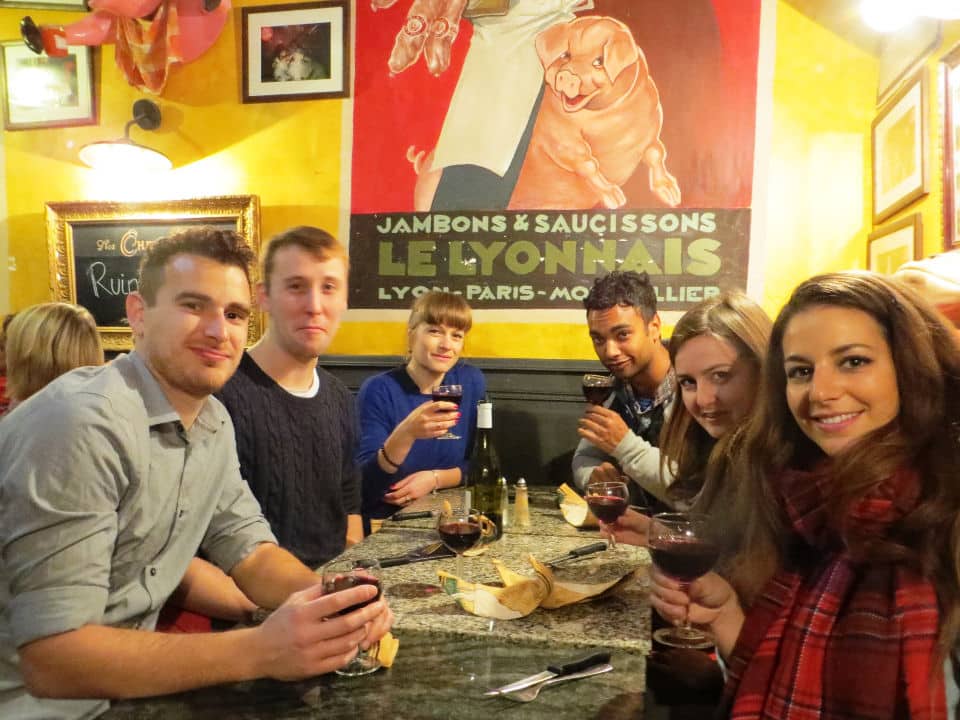 Other language study options
How much does it cost to have a language immersion experience in Montpellier?
Course prices may vary depending on your country of origin. In addition, the cost sometimes depends on the time of year when you decide to book your course at the French language school. The best is that you contact us so we send you the costs that will apply to your language stay, including prices of French courses in Montpellier with accommodation.
And obviously, the cost of studying French in Montpellier will depend on your standard of living and your spending habits. So you should check the prices of everyday life in Montpellier.
Sites of interest