Receive free expert counselling for studying French in Montreal ✓Prices of French courses in Montreal ✓Prerequisites ✓Can I work? ✓Dates ✓Accommodation. You will see here some of the available options at the time this page was published, but contact us and we will send you up-to-date information for your language immersion experience in Montreal.
Accredited French courses in Montreal
The French language school in Montreal offers various classes to choose from, depending on your interests and personal goals. You can choose new classes at the beginning of each new session (every 4 weeks).
The possible schedules are:
Part-time French course
17 lessons per week (Monday to Friday 9:00am to 12:00pm)
Full-time French course
24 lessons per week (Monday to Thursday 9:00am to 2:30pm and Friday 9:00am to 12:00pm)
20 lessons per week (Monday to Friday 1:15pm to 5:15pm)
Intensive French course
30 lessons per week (Monday to Thursday 9:00am to 4:00pm and Friday 9:00am to 12:00pm)
The following 3-hour French classes are offered in the mornings (9:00am to 12:00pm):
DELF exam preparation (for intermediate to advanced levels)
French communication (for beginner to advanced levels)
And in the afternoons, you can choose between various 1.5-hour classes. These are lessons designed so that each student can specialize in different topics or skills, depending on their level. The following electives are available:
For beginner levels
For beginner to advanced levels
Conversation
Communication
French through fashion and design
Reading
Writing
Vocabulary
French through film and music
Listening comprehension and pronunciation
For intermediate to advanced levels
Business: Preparing for the workplace
Debate
Business French
Global social affairs
Current international events
French through drama
Journalism
French around the world
Media study
People and places through time
Culture and society
Please note that all options are not available during each session as it depends on the interest for a specific elective and how many students register.
CEFLE Preparation Course
Do you want to be a teacher of French as a second language or as a foreign language? The French language academy in Montreal offers intensive training for the CEFLE certificate (Certificat d'Enseignement du Français Langue Seconde ou Etrangère).
This program is for those who already have a good command of the French language (mother tongue or equivalent) and who want to receive theoretical and practical training to be French teachers.
It is a 4-week full-time intensive course (5 days per week). During the program, candidates become familiar with the principles of teaching and acquire the practical skills to teach French. CEFLE preparation classes in Montreal include practice, observation of experienced teachers in their classes, and various assignments.
Description of French language school in Montreal
The institute to study French in Montreal has 38 classrooms with windows. There are also 2 computer rooms, a lounge for relaxing and socializing and a cafeteria, all with wireless internet access.
The institute is located in a modern building in the historic centre of Montreal, close to cafes, restaurants, shops and museums. It is part of a network of language schools that has existed for 30 years. The employees of the French language school in Montreal speak a multitude of languages, so they can accommodate students from many nationalities. Indeed, students at the school come from a wide variety of countries, which creates a very pleasant multicultural atmosphere based on mutual respect.
Activities outside the classroom and school are also part of the learning process. That is why the language academy organizes various events and outings around the city such as: bike or skate rides, parties, summer and winter sports, excursions to other Canadian cities (Toronto, Quebec City, Ottawa, Mont Tremblant), etc.
Regarding accommodation, the most popular option is in the home of a local family (homestay). These are carefully selected by the school staff. However, if you want to have more independence, the institute also has agreements with several student residences.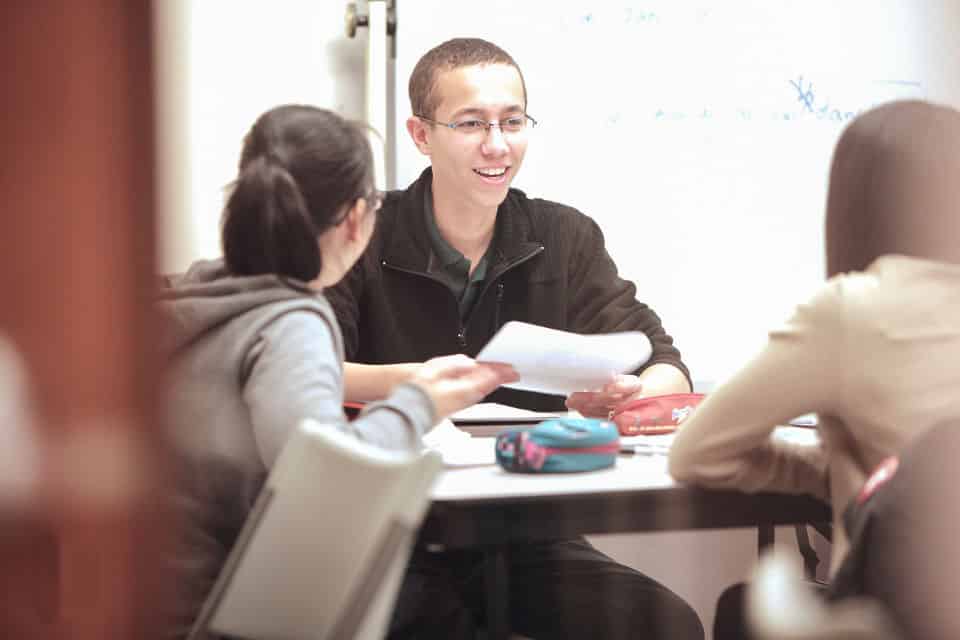 Other language study options
How much does it cost to have a language immersion experience in Montreal?
Course prices may vary depending on your country of origin. And the good news is that French language schools in Montreal offer special prices for certain nationalities, up to 35% off. In addition, the time of year when you decide to make the reservation can also influence the cost. The best is that you contact us so we send you the costs that will apply to your language stay, including prices of French courses in Montreal with accommodation.
Obviously, the cost of studying French in Montreal will also depend on your standard of living and your spending habits. So we recommend that you check the prices of everyday life in Montreal.
Sites of interest