Looking for Korean camps/courses in Korea for children/teenagers? Receive free expert advice ✓Costs ✓Dates ✓Requirements ✓Hosting (optional). Here you will see some of the available options, but contact us to send you more complete information, including pricing.
Prices and Dates of the Language Program for teenagers in Seoul
The program is offered from Monday July 4th until Friday August 12th, 2022 (the arrival day has to be on a Sunday and the departure day has to be on the Saturday after the program finishes).
It is possible to start any Monday during the dates the program is offered: July 4th, July 11th, July 18th, July 25th, August 1st, August 8th.
Foreign teenagers can choose the number of weeks during which they wish to participate (1, 2, 3, 4, 5 or 6 weeks).
Prices for 2022 Summer (in American dollars USD and in Korean Won KRW):
1 week = 1,580 USD (or 1,580,000 KRW)
2 weeks = 2,710 USD (or 2,710,000 KRW)
3 weeks = 3,840 USD (or 3,840,000 KRW)
4 weeks = 4,970 USD (or 4,970,000 KRW)
5 weeks = 6,100 USD (or 6,100,000 KRW)
6 weeks = 7,230 USD (or 7,230,000 KRW)
The prices of the teen camps for learning Korean include the following:
Transfer between the airport and the accommodation (pick-up and drop-off
School registration fee
Korean lessons for teenagers Monday through Friday during the morning (15 hours per week)
Materials for language classes
Activities from Monday to Friday in the afternoons
Transportation to activities
Homestay placement fee
Accommodation in Homestay (including breakfasts and dinners from Monday to Friday + lunches on week ends)
Korean Language Learning Camps in Korea for Foreign Children and Youth
Camps with Korean language courses in Korea for foreign children and teenagers take place in Seoul and accept young people from 13 to 17 years of age. They are offered during the summer between mid-July and mid-August. The arrival date has to be the Sunday before starting the program and the departure date on the Saturday after finishing. Teens can start any Monday during these dates and can participate for as many weeks as they want. The summer course takes place from Monday to Friday, and consists of Korean lessons in the mornings (3 hours/day) and various activities in the afternoons. Optional activities are offered on weekends (for an additional cost). Campers are staying in carefully selected Korean families (Homestay) (single or double room).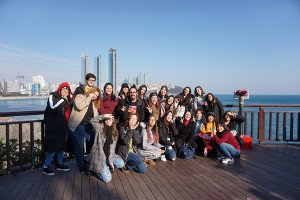 Organization of Korean courses in Korea for foreign children and adolescents
The first day of the Korean language camp in Korea for foreign children and youth:
The camper will need to bring their passport and a copy of their flight itinerary (E-Ticket).
Upon arrival at the reception, you will be asked for your passport and to fill out a form with your details.
9:00am: Guidance and Evaluation
The director or coordinator of the activities will talk about the school, the academic program, the stay in Homestay, the local area (Gangnam), the activities and excursions, the safety on the beach, the rules and regulations. A Welcome Pack will be delivered and your passport will be returned. The student will have to sign a contract asking them to speak only Korean or English while in school. This is very important and will help the student learn Korean faster. The assessment will help us find the best language class for the teen. You will have to answer 40 grammar questions and write something short. Those who don't know anything about Korean will be placed directly in a beginner class. For Korean lessons in the morning, students are integrated into the overall program with adult learners.
10.30am to 10.45am: Interview
The principal or teacher will interview the teen. They will talk about your homestay, your Korean language level and the best class for him(s). You will be given your schedule and books.
10.45am to 12.15pm: Language class
12.15pm to 1.00pm: Lunch break
1:00pm to 3.00pm: Evening activity
Transportation during camps to learn Korean in Seoul:
Upon arrival in Seoul, the host family will explain in detail how to get to the school. Homestays are within 30 minutes of the school. The city has a very efficient train and bus system. You have to provide between 30 and 40 USD per week for public transport.
Lunch during Korean language courses in Seoul for children and teenagers:
There are many restaurants (Asian and Western food), bakeries, and fast-foods near the school. A meal costs between 5 and 10 USD.
Unaccompanied minors with the airline:
There is an additional charge for those using the airline's unaccompanied minor service. Please let us know at the time of registration. The details of the person who will come to pick up the teenager at the airport will be communicated about 10-14 days before his arrival.
Korean Language Immersion Camp Schedule in Korea:
Monday to Friday:
08:45: Arrival at school
09:00: Korean lesson
10:30: Break
10:45: Korean lesson
12:15: Lunch
13:15: Activities*
16:00: Back to school
17:00: The school closes. Return to homestay
*The calendar of activities can be sent upon request.
Optional weekend activities:
Korean folk village
DMZ Tour
Seoul Grand Park
Employees of the Korean language school in Seoul accompany the teenagers on all these excursions. It is possible that an excursion will be canceled if there is no minimum of 6 people. Excursions are booked directly at the school after arrival.
Parental consent during the camp in Seoul:
In order to ensure the safety of students at all times, parents are asked to complete and sign a consent form. The institute has specific rules for the care of participants under the age of 19:
Cannot consume alcohol (by law)
They cannot smoke illegal substances (by law)
They must respect a curfew and be back to the homestay at 7pm Sunday through Thursday, and at 10pm on Fridays and Saturdays.
They cannot enter licensed sites, i.e. bars or clubs (by law)
In case of violation of the law of the country or the school, the adolescent may be sent back home, at the expense of the parents, before finishing the program. The school will not be responsible for any damage that may happen to the student when he or she is not under the supervision of camp employees. In addition, the school will not be liable for any damage or financial charges due to the student's misconduct while enrolled in the school. Parents who want to authorize their child to go on unsaned field trips will need to complete and sign a form.
Accommodation during Korean camps in Korea
Foreign campers are staying in the home of a Korean family, i.e. Homestay. We are aware that it can be difficult and confusing at first when one arrives, and the host families understand it too. So they are always willing to help and advise young people. Then they should not be afraid to ask anything.
Religion, equality and respect:
Koreans are mainly Christians, but everyone can practice their own religion freely. In Korea, women and men are equal; women are spoken of with the same respect as men. Both perform the same tasks: cleaning the house, washing dishes and clothes, etc. are tasks shared among family members (you can even ask the student for a little help). Koreans can be funny, easy to deal with, and they believe in it with respect to each other. It is considered correct to say "Gamsakhhabnida" (Thank you) when asking or receiving something.
Lunches and dinners while participating in Korean courses in Korea for children and teenagers:
You will receive 2 meals daily in your homestay (breakfasts and dinners). If you do not need dinner or if you will be late for dinner, please inform your host before.
Laundry, toiletries and bathrooms:
Your homestay will wash your dirty laundry, just ask where you have to leave them. Your host family will only provide you with soap in the bathrooms, you have to bring any other items you need (brush and toothpaste, shampoo, deodorant, etc.). Please do not take too long in the shower, a daily shower of 5 minutes is considered acceptable since Korea is a country where they take care of the water.
Life being part of the Korean family in Seoul:
The homestay can be an interesting and enriching experience for the student and the host family. Indeed, it offers the opportunity to get to know Korean culture better, while also offering a safe and reliable environment. So try to fit in with the host family and enjoy living as one of their members. If you want to use your homestay's phone, you have to ask for permission first. And make sure you don't stay online too long. If you want to make an international call you have to be a collect call.
Places of interest